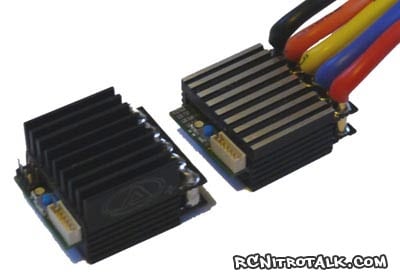 The Black Diamond ESC is a high performance speed controller that has been specifically designed to use 1s and 2s lipo batteries, as well as being able to use 5 and 6 cell NimH modes as well.
Every ESC on the market that allows 2s lipo or 6 cell NimH cells has a voltage regulator in it. The ESC regulates the 7.2 or 7.4 volts from the race pack down to the 6 volts that servos are designed to use. When designing the unit for 3.7 volt 1s lipo use, engineers at Advanced knew that many racers would be using a small 7.4 volt 2 cell lipo to power the radio gear.
Rather than forcing the user to add a second regulator to their small 1:12th car, the Black Diamond ESC allows the user to connect the 7.4 lipo direct to the regulator in the speed control eliminating the need for a separate regulator!
The power of the Black Diamond ESC is the result of a better engineering meeting up with the finest components. It is the first unit designed for 3.7v 1s lipo batteries. The timing profiles match actual use. No cheating. No funny stuff. Quality, engineering and hard work that results in a better product.
Black Diamond ESC Features
5 selectable forward profiles with timing advance.
5 selectable Brake profiles (two with drag brake)
Voltage cutoff for safe Lipo operation. 5 selectable battery profiles
Handles 1 – 2cell Lipo and 4-6 cell NiMh up to 3T.
Fault detection functions: Wrong battery setting, no receiver signal, High temperature.
Receiver pack connection to use controllers built in BEC (external BEC not needed!)
3 LEDs for easy identification of setup modes
Part #: 4002