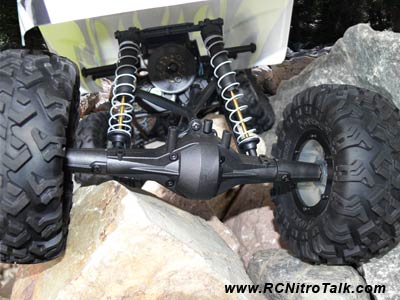 Axial in there never ending quest to make the Axial AX-10 Scorpion the best R/C rock crawler available has again released another cool upgrade – rear axle lock outs as well as a straight axle for the Axial Scorpion.
Axial has developed two types of rear axle lock-outs, the first being crafted from a strong plastic composite material which is very cost effective and the second Axial rear axle lock-out being made from super strong 6061 aluminum that has been anodized black. Lock-outs are sold separately so you can choose from either aluminum or plastic lock-out and both require the Axial Straight Axle (AX30421)
Axial rear lock-out and straight axle part numbers and suggested retail prices:
AX80020 – Axial Plastic Rear Axle Lock-out (2pcs)
MSRP: $8.00
AX30421 – Axial Straight Axle 6×104 50mm (2pcs)
MSRP: $20.00
AX30494 – Axial Aluminum Rear Axle Lock-out (2pcs)
MSRP: $35.00
Discuss the new Axial lock-outs in our RC Rock Crawler forum.