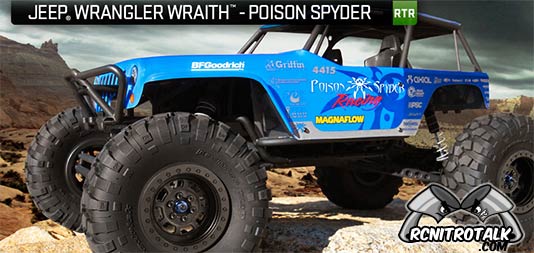 Putting Axial, Jeep, and Poison Spyder together can only mean good things… say hello to the new Axial Jeep Wrangler Wraith Poison Spyder Rock Racer!
Ultra4 Racing combines the best of both off road racing worlds including high speed desert action and hard core rock racing. The Axial Jeep Wrangler Wraith appeals to fans of this event series because it offers some of the same spectacular abilities. Featuring a full tubular chassis and a detailed interior just like the full size counterparts, the realism offered by this vehicle is second to none. The livery is a virtual replica of the amazing machine that the talented crew at Poison Spyder Racing have constructed just for the Ultra4 series.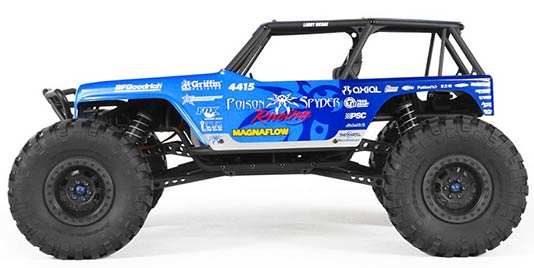 The Axial Jeep Wrangler Wraith Poison Spyder Rock Racer is ready for rock spitting, dirt slinging, action. It's designed to tackle the rocks with ease and blast across open desert at full attack speed. The Axial Jeep Wrangler Wraith Poison Spyder Rock Racer RTR 1/10th Scale Electric 4WD Rock Racer features a realistic full tube-frame chassis design that is manufactured with high strength composite materials. The Wraith IS BUILT TO GO FAST and is not just a low speed rock crawler.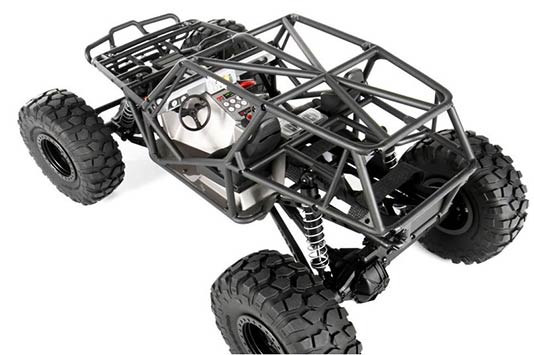 The Jeep Wrangler Wraith is built with traditional straight axles allowing for maximum suspension articulation. This vehicle features differential lockers front, center and rear just like its full size counterpart. With lockers and maximum articulation, there isn't anywhere you can't take this rock racing machine
Axial has also equipped the Axial Jeep Wrangler Wraith Poison Spyder Rock Racer with WB8 Wild Boar Driveshafts featuring metal to metal universal joint driveshaft system with splined plastic slider. This design provides more durability than traditional driveshaft designs because it uses a screw shaft for a more positive lock to the output shaft.
Constant Velocity Joint Design [CVJ]
Full Metal-To-Metal Construction for the CVJ-Housing
Friction Free Movement / Smooth Articulation
"Tough-as-Tusk" Durability
Easy Assembly & Maintenance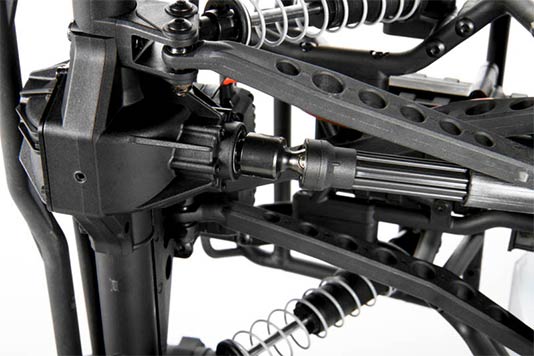 Axial Wrangler Poison Spyder Rock Racer Specs
Wheelbase: 13.98″ (355mm)
Ground Clearance: 2.8″ (71.6mm)
Height: 9.1″ (232mm)
Width: 11.22″ (285mm)
Length: 19.25″ (489mm)
Weight: 5.45lbs (2.47kg)
Part #: AX90031 –
RTR Jeep Wrangler Wraith-Poison Spyder Rock Racer 1/10th Scale Electric 4WD
Get more info about this new truck by clicking here!