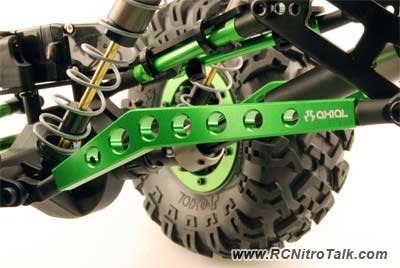 Now available for the Axial AX-10 Scorpion are Axial Hi-clearance links. The Axial Hi-Clearance links are machined from heavy duty aluminum that add increased ground clearance and strength. The Axial AX-10 hi-clearance links are just slightly shorter then the current bent links to allow for more wheelbase adjustments are are available in the following colors: green, red, blue and orange.
Part #: AX30465 – AX30468 – Axial Machined hi-clearance Links
MSRP: $35.00
Discuss the Axial hi clearance links in our RC Rock Crawlers forum.