RCTalk is supported by our readers. When you purchase through links on our site, we may earn an affiliate commission. Learn more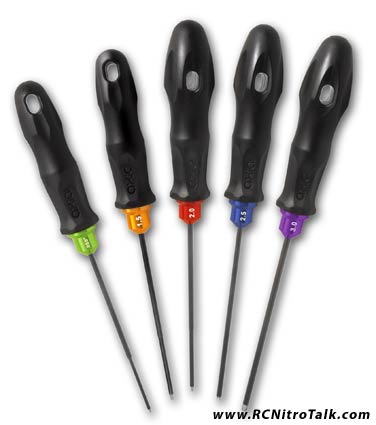 Axial has taken the guess work out of which hex driver is what size. Axials' new color coded and laser etched hex drivers allow for easier identification, these tools were designed to be easier to use than most. The Axial Hex Drivers handles were ergonomically designed to fit in your hand better and provide grip even when your hands are slick from oil and grease.
Axial Hex Drivers Features
Color coded and laser etched for easier size identification
Sold in sets or individually
Standard and metric
Replacement tips available
Ergonomic handle fits your hand more comfortably than smaller drivers
Metric set includes: .050mm, 1.5mm, 2.0mm, 2.5mm, and 3.0mm drivers
Standard set includes: .050″, 1/16″, 5/64″, 3/32″, and 3/32″ Ball driver
Part #'s:
AX20008 – Axial Metric Hex Driver Set
AX20009 – Axial Standard Hex Driver Set
MSRP:
$80.00 – Metric Hex Driver Set
$83.00 – Standard Hex Driver Set
$18.00 – Average cost for individual Axial Hex Drivers
Come discuss the new Axial Hex Drivers in our Tool Talk forum!