5 ways to take your Mini-T to the next level
RCTalk is supported by our readers. When you purchase through links on our site, we may earn an affiliate commission. Learn more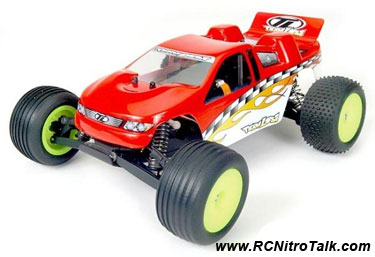 The Team Losi Mini-T RTR itself is a great truck and loads of fun right out of the box. However as with any R/C there is always room for improvement and the Losi Mini-T is no exception to the rule. Lucky for you Team Losi offers a large number of hop-ups to take your Losi Mini-T to the next level.
1. Oil filled aluminum shocks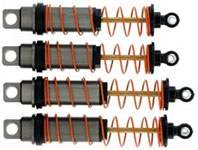 The factory plastic friction shocks just don't cut it when racing or jumping your mini-t and the ability to customize your suspension stiffness or softness just doesn't exist like you'd have with the Team Losi aluminum oil filled shocks. Oil-Filled Shocks will eliminate bounce and dramatically improve handling on rough surfaces!
2. Ball Bearings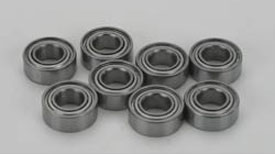 Ball bearings are a MUST! Bushings on any R/C wear out much faster can cause a lot more friction then a good set of ball bearings. Ball bearings will allow your Mini-T to run not only faster because of the decreased friction but also longer!
3. 2-Cell LiPo Battery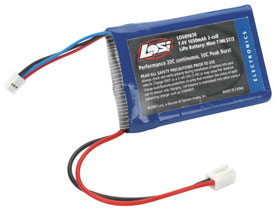 Upgrading your Losi Mini-T to a 2-cell LiPo battery has many advantages. For one LiPo batteries are lighter then traditional NiMh batteries, plus they offer increased speeds and a lot longer run times over stock mini-t battery packs.
4. Heavy Duty Ball Differential
Stronger and faster modified motors are being placed inside the Mini-T and to handle all this extra power a heavy duty ball diff is definitely needed. Completely stock Mini-T's without a modified motor will also see an improvement in traction.
5. Titanium Turnbuckles
The lightweight and extreme strength of Titanium is reason enough for upgrading your Losi Mini-T with a set of these. The fact that the Losi titanium turnbuckles also feature left and right threads on either side that allows for quick and easy adjustment is just another bonus!
Have another "must have" hop-up suggestion? Please share them with us in our Micro 1/18th forum.