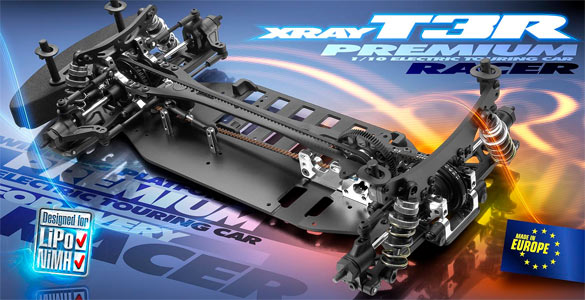 The latest touring car, the XRAY T3R, is based on the award-winning XRAY T3 high-performance electric touring car platform, a car that has raised the bar in engineering, design, and performance and has won the hearts of racers worldwide along with an exceptional amount of titles and awards.
With the worldwide success of the XRAY T3 platform, XRAY's best touring car design to date. XRAY wanted to release a platform that would allow everyone to enjoy the design and performance benefits of the T3 platform no matter what their racing needs and budget are.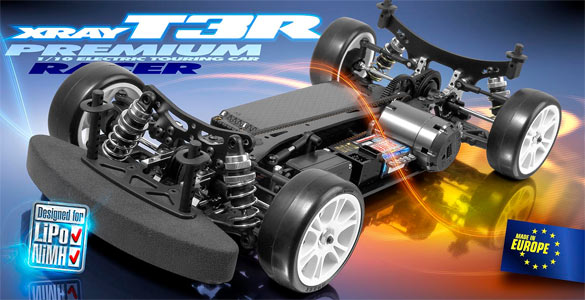 XRAY T3R features:
Based on the ultra-successful T3 platform
LiPo and NiMh multi purpose-designed platform
Unique XRAY Alternative Driveline Configuration for perfect weight balance with either LiPo or NiMH batteries and electronics layout
Front and rear diffs and transmission belts can be quickly and easily oriented to either the left or right side to balance the car for either LiPo or NiMH use.
All-new suspension holder system allows suspension arms to be mounted independently from the diff bulkheads
All-new direct independent suspension alu holders mounted directly to the chassis allow for prolonged chassis flex thus generating more traction.
Independent suspension holders allow for more precise and fine set-up adjustments with the use of different-thickness shims
New motor mount has been purpose-designed for brushless motors, placing the motor 3mm more towards the centerline
New aluminum rear suspension holders positioned towards the centerline results in narrower rear track-width and more rear traction
Rear aluminum rear suspension holders feature integrated toe-in
All-new 1-piece top deck features unique layshaft composite holders to allow the top deck to be mounted to the rear bulkheads independently from the central layshaft bulkheads
New 1-piece top deck provides new and improved XRAY Multi-Flex adjustment possibilities to eliminate chassis flex adjustment; all flex adjustment is performed via the top deck Multi-Flex adjustments
Optimized top deck Multi-Flex adjustment possibilities allow for super-fast and easy adjustment of car handling for all different racing conditions
The design of the top deck moves the flex point from the front and rear of the top deck to the center, providing more steering and increasing responsiveness
New 2.5mm chassis moves the battery position further back for more steering. The battery slots are 4mm-wider allowing the battery position/balance to be changed depending on the number and type of batteries used
New motor holder connects the motor mount bulkhead to the center of the chassis, this transfers the flex effect of the motor mount into the absolute centerline of the chassis
Layshaft bulkheads are independently mounted from the top deck for better flex adjustment
Layshaft bearings are secured to the bulkheads with new plastic holders
New higher bulkheads raise the top deck for perfect LiPo fitment
New servo saver eccentric position for improved steering response
New 38/20T (1.9) internal gearing for improved drivetrain efficiency and performance
New more eccentric front and rear roll center holders with more inner camber link positions for better balance and handling
New updated front steering blocks provide increased steering angle for more steering and higher cornering speeds
New modified rear arms with extra roll bar positions for better roll balance on high-traction tracks and more precise anti-roll bar adjustment
Two different battery plastic holders specially for LiPo and specially for NiMH batteries
New thinner antenna holder with new placement position to allow for a more centrally-located receiver
New front and rear shock towers with optimized roll center positions
New lighter, black-anodized Swiss 7075 T6 aluminum turnbuckles
Majority of spare parts and option parts compatible with T3 platform
Other XRAY T3R Specifications:
Fully independent, fully-adjustable suspension
Highly-efficient 2-belt, 4WD system
High-performance Kevlar-reinforced drive belts
Centrally-positioned servo saver
Adjustable Ackermann settings achieved by repositioning the bell crank post forward or backward + 5 additional positions available through XRAY Quick-Saver
Inline battery pack positioned along one side
Composite battery backstops prevent battery movement on chassis (for either NiMH or LiPo batteries)
Adjustable very lightweight composite ball differential
Belt tension adjustment in both front and rear bulkheads
Strong aluminum servo stands
Complete set of high-speed, blue-sealed ball-bearings, degreased, lightly oiled for maximum efficiency, individually controlled, selected, and inspected
Part #: 30 0103 – XRAY T3R touring car
Discuss the new XRAY T3R touring car in our On-Road Touring forum.