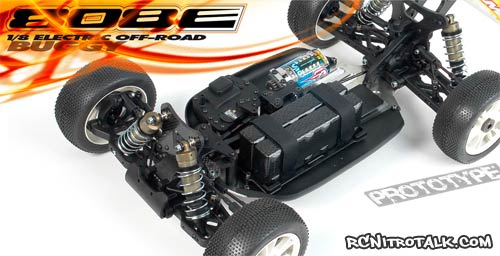 XRAY has just released their new 1/8th scale buggy, the XRAY 808E. The XRAY 808E is based off the very successful XRAY 808 nitro buggy. The new XRAY 808E has been designed for professional racers, the 808E features ultra-high performance parts, finest quality materials, unmatched precision in manufacturing, and backed up with legendary XRAY support and service.
The XRAY 808E is a professional race car delivered in a kit version to allow you to choose your own electronics. Supported by XRAY dedication, passion, and heritage of performance, the XRAY 808E is ready to take you to the winning circle.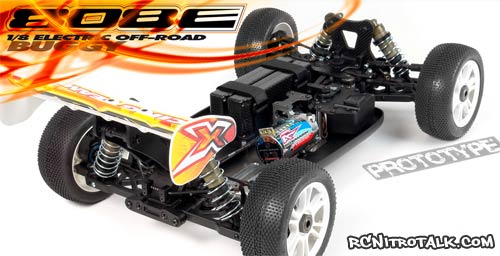 XRAY 808E Specs
premium high-competition off-road electric-powered buggy
kit version only – for professional racers
based on the ultra-successful 808 platform, sharing a majority of parts
efficient Zero Kingpin suspension
strong, lightweight molded steering blocks with molded-in steel bushings
well-proven 808 suspension parts and geometry
ultra-low CG, all parts centralized in chassis
optimized front/rear and left/right weight balance for perfect jumping
pure racing design, highest-performance ultra-durable parts
ultra-lightweight high-tensile transmission parts hand-made from special world-renowned top-secret self-developed HUDY Spring Steel
drivetrain includes 22 high-speed rubber-sealed bearings for maximum efficiency, speed, and durability
ultra-precision front/rear and center diffs with HUDY Spring Steel outdrives
pinions, spurs, crown gears and clutchbell manufactured by HUDY
optimized multiple upper/lower shock mounting locations for front and rear
exclusive adjustable turnbuckles made from Swiss 7075 T6 aluminum
flexible suspension holders with integrated preset optimal suspension geometry
high-tensile Swiss 7075 T6 hard-anodized chassis
ultra-strong inboard & outboard suspension pivot pins
direct Shaft Connection to the pinion gear
front & rear anti-roll bars
narrow servo saver and steering system
front & rear flexible composite brace
gearboxes with Labyrinth Dust Covers™
premium-grade graphite shock towers: 4mm extra-thick front & 3.5mm thick rear
big-bore oversized shocks for excellent handling on bumpy tracks and big jumps
threaded big-bore hard-anodized shock bodies
protective folding rubber shock boots for big-bore shocks, front & rear
ultra-low XRAY racing body
XRAY Premium Shock Oils for perfect consistency
Discuss the XRAY 808E buggy in our 1/8th scale buggy forum.