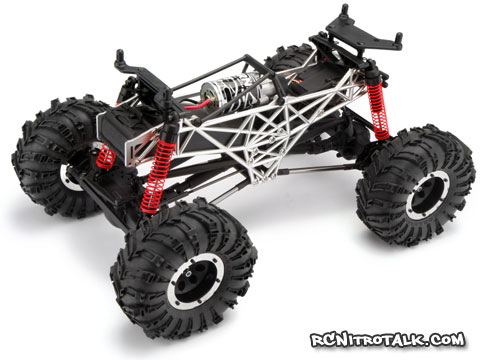 Finally! A complete, everything you need, HPI Wheely King rock crawler conversion kit. The HPI Wheely King conversion kit will transform your stock Wheely King into a full rock crawler. The Wheely King rock crawler kit comes complete with the Wheely King Crawler conversion set, a gear reduction box, HPI Rock 8 bead lock wheels, along with HPI rock crawling Rock Grabber tires.
The HPI Wheely King rock crawler conversion kit lengthens the wheelbase of the Wheely King to the maximum allowed 12.5″ according to the USRCCA. Anodized aluminum lower links are durable and give the Wheely King that authentic rock crawler look. The Wheely Kings ground clearance has also been increased with high link suspension mount brackets.
To help maximize the weight layout for rock crawling, the HPI Wheely King rock crawler conversion set comes with a new servo mount that allows the battery to be moved forward in the truck. Diff lockers are included to for both differentials, effectively locking the front and rear diffs of the Wheely King for extra traction. Also included are convenient body mounts and hex hubs that allow the HPI Wheely King Crawler to be compatible with a wide variety of bodies and wheels.
The Reduction Gear Box Set bolts right into any HPI Wheely King for a perfect fit. It contains a tough metal case, ball bearings and all-metal gears for extra durability. The gear ratio is transformed from 23:1 on the stock truck to a whopping 174:1 after the installation. This Reduction Gear Box Set is perfect for rock crawling because it delivers stump pulling torque and the power to climb any slope.
HPI Rock 8 Bead Lock Wheels are designed for high performance in rock crawling conditions. The tire is held on with bead lock rings to keep the tire securely mounted on the wheel without the need for messy super glue. Each ring is made from stainless steel, making them extra heavy to keep them firmly planted on steep terrain.
The HPI Rock Grabber Tires are high grip tires designed for rocky terrain. These rock crawling tires are molded with sticky S compound rubber for excellent grip on all kinds of rocks. The blocky tread pattern wraps around the sidewall of the tire for extra grip in challenging conditions. These are true bead lock tires, made to fit HPI rock crawling wheels using 6-hole bead lock rings to keep the tire securely mounted on the wheel without the need for messy super glue.
Wheely King rock crawler conversion kit features
Rock 8 Bead Lock Wheels for realistic looks and secure bead lock mounting.
Rock Grabber Tires for high grip on rocky terrain.
Reduction Gear Box for stump pulling gear ratio reduction.
2 1/4″ longer wheelbase for better stability.
Longest wheel base allowed by class rules.
Diff Lock (Front and Rear) for increased traction.
Front battery layout moves weight forward for better crawling stability.
Additional body mounts allow fitment of all Savage bodies.
Aluminum lower suspension links for extreme durability and good looks.
High link suspension mount brackets for more ground clearance.
New Steering servo mount repositions servo to allow battery in front of crawler.
Optional 17mm hex hub included for fitment of 17mm hex hub wheels. (Savage wheels etc.)
Part #: 87632
MSRP: $210.00
Talk about the Wheely King rock crawler conversion kit in our RC Rock Crawlers forum.