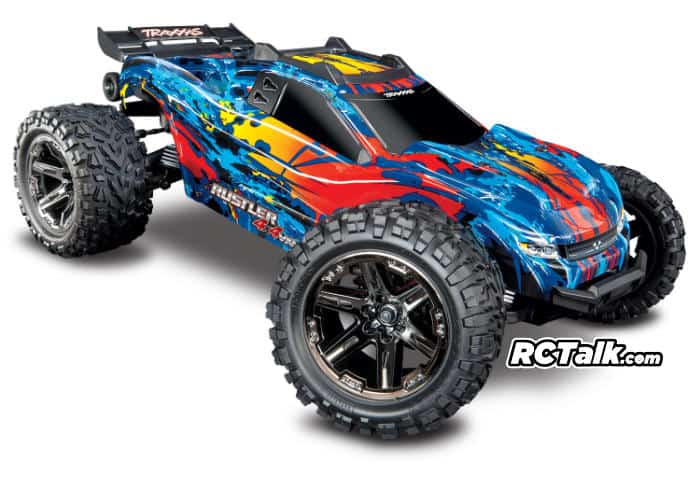 Traxxas has just released news about their new Traxxas Rustler 4×4 VXL – a major upgrade over previous generations 2WD versions from yesteryear.
The new Traxxas Rustler 4×4 features a ton of upgrades and redesigns, such as the redesigned low center gravity composite chassis. The addition of 4×4, compared to the 2WD models the Rustler has previously always been. As well as a self-righting mode and clip-less body mounts.
To power the new Rustler 4×4, Traxxas has equipped it with a Velineon 3500 brushless system, capable of handling 3S LiPo battery packs.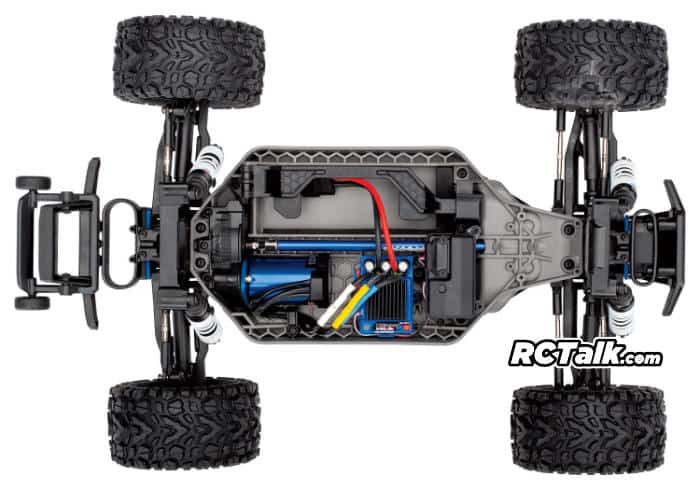 Traxxas Rustler 4×4 Specs
Length: 18.78 inches (477mm)
Width: 12.94 inches (329mm)
Ground Clearance: 1.1 inches (27mm)
Weight: 5.12lbs (2.32 kg)
Height: 6.35 inches (161mm)
Wheelbase: 11.62 inches (295mm)
Tires (pre-glued): 4.5" x 2.3" (114mm x 58mm) Talon EXT
Wheels: 2.8 inches (71mm) Black Chrome
Speed Control: VXL-3s™
Motor (electric): Velineon® 3500 Brushless
Transmission: Single speed
Overall Drive Ratio: 13.97:1
Differentials: Sealed, 2-gear
Chassis Structure / Material: Composite tub
Radio System: TQi 2.4GHz 2-ch transmitter with #6533 TSM receiver
Servo: Waterproof #2075
Top Speed (optional gearing): 65+ mph with 3-cell LiPo and 20/54 gearing
You should expect to see the Traxxas Rustler 4×4 to hit stores in October for around $400. Part number for the Rustler 4×4 is 67076-4.
For more Traxxas news click here or click here for more details about the Rustler 4×4!