Pro Boat Sonicwake RTR Self-Righting Deep-V Boat
RCTalk is supported by our readers. When you purchase through links on our site, we may earn an affiliate commission. Learn more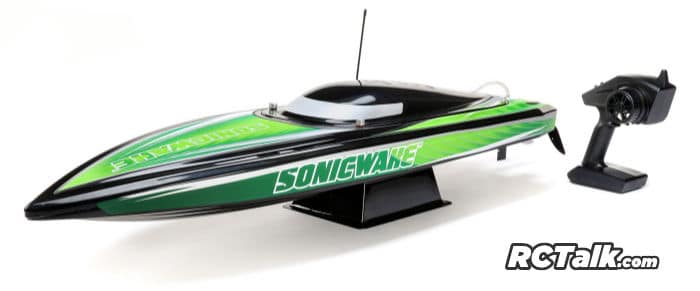 With features such as the self-righting design that will flip the boat upright automatically and the ability to reach 50+ MPH, the new Pro Boat Sonicwake 36″ deep-v boat has been designed with both beginners and avid boaters in mind.
The Pro Boat Sonicwake 36″ boat features a 4 pole 1900Kv brushless motor that is water cooled. Along with a waterproof, high torque steering servo and a Spektrum STX2 2.4 GHz FHSS radio.

Pro Boat Sonicwake specs
Beam: 11 inches (279.4 mm)
Boat Type: Deep-V
Completion Level: Ready-To-Run
Drive System: Flex Shaft
Hull Height: 4 in (101.6 mm)
Hull Material: ABS
Length: 36 in (914.4 mm)
Motor Size: Water-cooled Brushless 36x74mm 1900kv
Propeller Size: 1.6″ X 1.73″
Radio: 2-Channel 2.4GHz
Recommended Battery: (2) 50C+ 2-3S LiPo with EC5 Connector
Scale: 36-inch
Speed: 50+
Speed Control: 120A Brushless Marine
Steering: Offset Rudder
Trimscheme Colors: Black with Green
Weight: 5.5 lbs (2.5 kg)
Part number for the Pro Boat Sonicwake 36″ boat is: PRB08032T2 and is expected to be available in early Oct 2018 for a cost of $400.