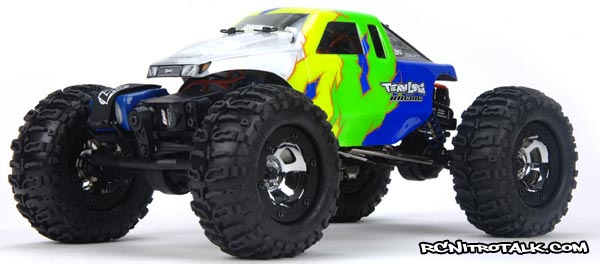 Team Losi's 1/18th Mini Rock Crawler roller is just the answer that many rock crawling fans have been looking for. From the World Championship winning Blue compound mini rock claw tires to the Comp Crawler inspired upper shock bracket geometry, this 1.9inch class crawler has what it takes to own the rocks.
Based upon the award winning Mini Rock Crawler, widely accredited as being the catalyst for the growing 1.9inch class, the Losi 1/18 Mini Rock Crawler Pro has been extensively tweaked and fettled by Losi's experienced Rock Crawling designers whose brief was clearly to deliver the most complete Mini Crawler to once again, lift the bar of expectation a further notch or two.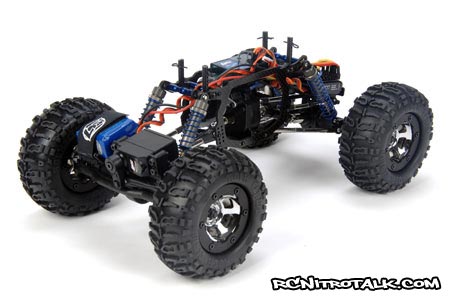 From the carbon Twin Vertical Chassis Plates to the combined servo and battery tray sitting right over the front axle where you want it to be, the Losi 1/18th Mini Rock Crawler roller has been detailed by enthusiasts for enthusiasts. Strengthened metal diff lockers and front CV drive shafts are provided as standard, as is a true 4-link suspension design along with near-zero Ackermann steering geometry and the pro level threaded alloy shock oil-filled shock absorbers– all features that experienced crawling fans will appreciate and features that newer crawling fans will learn to rely on.
As you'd expect, the suspension geometry is totally adjustable, allowing you to dial the Team Losi 1/18th Mini Rock Crawler Pro in to whatever type of terrain you're facing. Multiple upper track rod mounting positions are accommodated within the TVP chassis design whilst the shock angle can be quickly adjusted by means of the carbon fiber shock arms – technology that has filtered through from the critically acclaimed 2.2inch Team Losi Competition Crawler.
The Mini Rock Crawler Pro comes as a Race Roller meaning that all you need to do to complete it is to fit your choice of electronics and paint the Mini Grappler Pro body in the colors of your choice. Despite it's small size, the Losi 1/18 Mini Rock Crawler roller will even accept a standard sized steering servo.
Losi 1/18th mini rock crawler features
Carbon Fiber Twin Vertical Plate Chassis
4-Link Crawler Designed Suspension
Carbon Fiber, Adjustable Shock Arms
Near Zero Ackerman Steering Geometry
Front CV Driveshafts
Threaded Aluminum Crawling Shocks
One-Piece Rear Lock-out Hubs and Axle Shafts
1/10- and 1/18-Scale Servo/Battery Mount
True Beadlock Wheels
World Champion 1.9 blue compound Mini Rock Claws
Mini Grappler Pro Body
Vertical Body Mounts
Needed to Complete
Steering Servo (1/18 MSX12 Digital Mini Servo or 1/10 MSX Digital High)
2-Channel Radio System
Brushless Power System (1/18 Xcelorin Sensored Crawler 18.5T Brushless Combo)
LiPo Battery & Charger (Xcelorin 7.4V 600mAh 2S2P LiPo Battery and Charger Combo)
Polycarbonate Paint
Part #: LOSA0101 – Team Losi 1/18th mini rock crawler roller
MSRP: $229.99
Post your comments below about the Team Losi 1/18th mini rock crawler roller or in our RC Rock Crawlers forum!