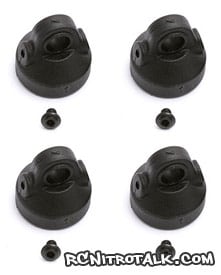 Team Associated has announced their new bleeder shock caps, the cure for emulsion style (non-bladder) shocks that RC enthusiasts, from beginner to pro level, have dealt first hand with the difficulty and mess that these shocks can create. Team Associated has addressed these concerns by creating Factory Team Bleeder Shock Caps to simplify the bleeding process.
Team Associated Bleeder Shock Caps Features
Using the bleeder caps ensures you have the exact amount of oil in your shocks every time.
New shock cap design improves durability and includes a large seal surface for bleeder screw.
Extremely easy to get all 4 shocks to have the same bound and rebound.
Makes building and rebuilding emulsion shocks faster and more precise than ever before.
More consistent feel between builds.
Easy to adapt to weather changes.
Since pressure increases inside the shock when the temperature increases, you can now bleed your shocks on your car in seconds without a huge mess.
Uses 2-56 button head screw with .050" hex socket.
Can be used on 1:10 vehicles using AE shocks, either Factory Team or RTR (on-road shocks will require the addition of ASC6469 – Shock Cap O-rings, sold separately).
Part #: 6443 – Team Associated Bleeder Shock Caps
MSRP: $6.99