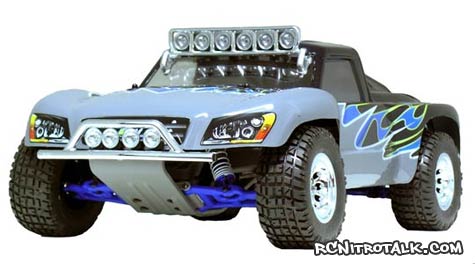 RPM Products has just released their new rc short course roof light bar. The RPM roof light bar has a total of six light canisters that are capable of holding high intensity 3mm LED lights (not included) for the ultimate in nighttime off-road short course rc racing.
RPM wanted to design a roof light bar as realistic as possible while still being durable. The result is a unique hinge based system that in the event in a roll over, the roof light bar will collapse against the body to help reduce impact damage. The RPM roof light bar is designed to bolt to the front windshield of the truck, keeping the light bar profile low and in perfect position to light up the night. RPM has also included a pair of large backing plates to help protect the body where the screws hold the light bar in place.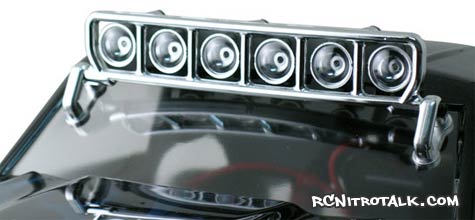 The RPM roof light bar will work with all current 1/10th scale short course rc trucks as well with most 1/8th scale trucks. The RPM roof light bars are also available in black, chrome, and blue. Each kit comes complete with all necessary mounting hardware, light canisters, molded parts and instructions. The instructions also show how to easily create your own LED light set-up with a few basic electronics skills, some tools and a little patience.
Suggestions: If you don't want to build a set of LED lights yourself, please consider these options for drop-in light sets for the RPM Roof-Mounted Light Bar Set.
RC-Lights makes a pair of drop-in kits specifically for the RPM roof light bar that use the main battery pack for power.
RAMTech-RC also makes a kit for the RPM roof light bar using a different approach. Their light kit uses a separate 9V battery to power the lights.
Come discuss the new RPM Roof Light Bar in our Stadium and CORR Trucks forum or head on over to our sister site, RCShortCourseTalk.com