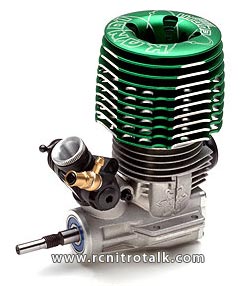 The new Sirio EVO III line of engines feature a new crankcase to increase flow to the combustion chamber. Port timing and induction timing have been changed to increase torque and driveability. The result is an engine with tons of dirveable power and it's easy to tune. The Sirio EVO III STI engines have all the "extra" touches that a true "team" engine has and they are now available to the public.
The Sirio EVO III STI engines also feature serialized crankshafts, cases and rods which provide for better quality control. Each Sirio EVO III STI crankcase is hand selected and blue printed for the best tolerances. The Sirio EVO III STI sleeve is hand matched to the case to improve the flow through all the ports. The Sirio EVO III STI connecting rod features a surface treatment that ensures maximum strength. The Sirio EVO III STI crank shaft has an aerospace coating to improve durability and performance. Premium bearings are hand matched to the crank shaft and case tolerances. Add this all up and you have true factory team performance.
Designed for the Off Road buggies, the S21BK EVOIII STI is one of the hottest engines for 2007. The the new port timing along with the STI modifications make this engine a must have to 2007! There is no more technically advanced buggy engine on the market.
Sirio S21BK EVOIII STI Features
Displacement: 4.67 cc
Stroke: 16.62mm
Bore: 16.35mm
Ports: 5+2
Piston: CNC
Sleeve: ABC
Exhaust: Rear
Weight: 370 grams
Crankshaft: 14.20mm SG Type
Carburetor: Composite / Slide / Single Adj.
Plug Type: Std/Turbo
SKU: S21BKEVOIIISTI
MSRP: $399.99
Available: Late February
Discuss the new Sirio S21BK EVOIII STI in our Power Plants forum!