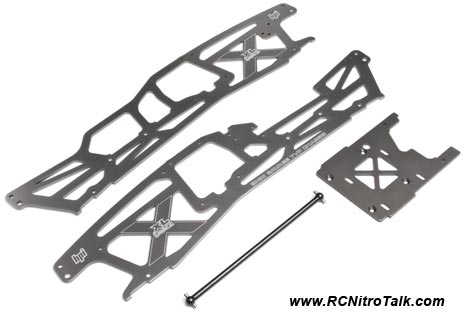 Well it was bound to happen, ever since HPI announced it's release of the HPI Savage XL and now HPI has done it – released an HPI Savage XL chassis conversion kit. Now HPI Savage owners can upgrade their trucks using the same chassis found on the new Savage XL.
The conversion will give previous HPI Savage trucks an increase of 55mm longer TVP chassis plates which the extra length will provide extra stability over rough terrain. The Savage XL chassis plates are also 0.5mm thicker then the old Savage TVP chassis plates.
The new HPI Savage XL chassis conversion kit also includes is a 3mm thick engine mounting plate and an extended rear drive shaft as well as etched Savage XL logos on the side of the chassis plates. This is a factory engineered conversion set that is made to fit perfectly for quick and easy installation on any Savage X truck.
HPI also recommends using the Savage XL body for the best fit and notes that orginal HPI Savage owners (pre-Savage X) will also need a package of #86709 engine mount brace for the conversion.
Part #: 100413 – HPI Savage XL Chassis Conversion Kit
MSRP: $90.00
Come discuss the new HPI Savage XL Chassis conversion kit in your HPI Savage forum.