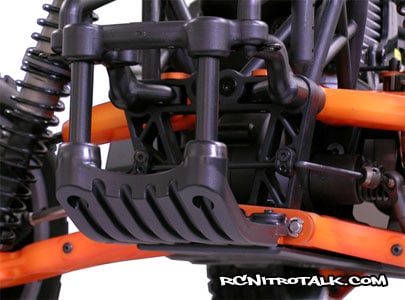 RPM has released a new rear skid plate for the HPI Baja 5B and 5T. The new RPM Baja rear skid plate has been designed to protect large rear-mounted aftermarket exhaust pipes that the two small stock tubes leave virtually exposed to everything.
The RPM rear skid plate eliminates that weak point by eliminating those two tubes entirely. They then replace them with a large, curved plate with seven huge skid rails measuring 1/4″ wide by 3/16″ tall that provide unmatched skid and impact resistance to the rear end of your HPI Baja 5B / 5T. A small, open section was left to allow easy access to the clip the stock under-guard in place while closing up most of the back end so nothing can come up from the bottom to hit your expensive, aftermarket exhaust pipe.
RPM also dropped the skid rails parallel to the lowest point on the chassis, helping reduce some of the impacts taken by the chassis and place it where it can be handled much better – by the RPM skid plate!
Part #: 81992 – RPM rear skid plate for Baja 5B & 5T
MSRP: $21.95 – Available 08-25-2010