Futaba 2010 Electric Challenge
RCTalk is supported by our readers. When you purchase through links on our site, we may earn an affiliate commission. Learn more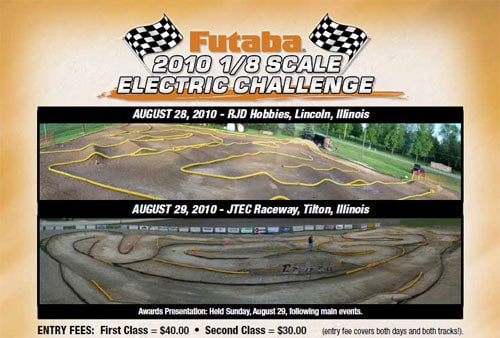 Join Futaba August 28 at RJD Hobbies in Lincoln, Illinois and on August 29 at JTec Raceway in Tilton, Illinois for an exciting two-day 1/8th scale electric challenge. The event lasts for two days, but only one entry fee is required. The best will win the cash and merchandise, but all pre-registered drivers will take home a free event T-shirt and goody bag. Don't miss your chance to be the first 1/8 Electric Challenge winner!
Enter now, for the chance to win…
Cash prizes
Raffle giveaways
Trophies
Magazine subscriptions – and more!
Futaba 2010 Challenge pdf flyer or visit the Futaba 2010 Challenge website.