RPM rear a-arms for Traxxas Slash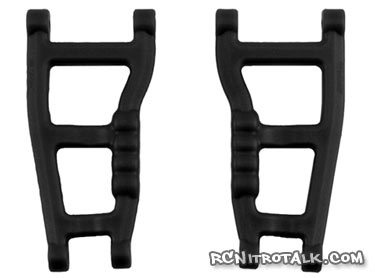 RPM has released a set of rear a-arms for the Traxxas Slash. The new RPM rear a-arms for the Traxxas Slash have been designed to handle serious abuse by increasing the material around the outer hinge pins by 64%! RPM has also removed all the unnecessary holes and shock mounts that would be needed on other vehicles but not the Traxxas Slash.
Even with all the increased material and strength the RPM rear Traxxas Slash A-Arms are still 10% lighter then the stock a-arms. The RPM Traxxas Slash rear A-arms are not only stronger and more durable than stock, they are also more rigid and less flexible too, making them the perfect addition to those race-level Traxxas Slashes on the track. Additionally, the new geometry design leaves no place for dirt and rocks to get caught in the lower A-arm and reduces the chances of rocks and debris getting stuck between the axle and the arm.
Part #:
80592 – Black Rear A-arms for the Traxxas Slash
80595 – Blue Rear A-arms for the Traxxas Slash
MSRP: $11.95