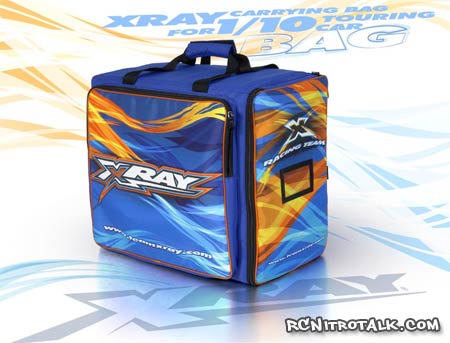 Check out the new 1/10th scale touring car carrying bag from XRAY. The XRAY carrying bag is not only stylish and light weight, it's also very smart and spacious in it's design. The XRAY carrying bag is spacious enough to carry your 1/10th scale touring car, tools, and setup equipment to the track with comfort and style. For added protection all walls are cushioned with protective foam to keep your equipment safe.
Large side pockets are large enough to carry a full size setup board. Strong nylon carrying straps with a padded handle allow for easy carrying of the XRAY carrying bag. The carrying bag also features four heavy duty rubber feet to protect the bottom of the bag from wear and provide excellent grip on slippery surfaces.
The spacious 500x250x420mm interior is easily accessible through the zippered bag end. There is interior room for number of different combinations of different-sized storage boxes for carrying any type of RC gear (including your car). The XRAY carrying bag comes standard with 1 large + 3 small storage boxes, or optionally 3 large storage boxes may be used. The strong, reinforced, waterproof storage boxes are made from a special high-quality rigid composite material for long life and extra durability.
Part #: 397232 – XRAY Carrying bag for 1/10th scale touring cars.