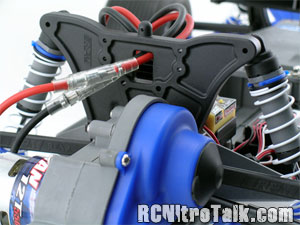 RPM Products is wasting no time making sure their parts for the electric versions of the Traxxas Stampede, Rustler also fit for the new Traxxas Slash.
Take for example the RPM gear cover, with the release of the new Traxxas Slash, there was some interference issues with the original RPM molded gear cover. RPM has redesigned and expanded the area of the gear cover over the motor shaft to accommodate the longer motor shafts found on the XL-5 and VXL motors. RPM also narrowed a few areas along the perimeter of the gear cover to allow clearance for the rear bumper and a wheelie bar mount as well on the Traxxas Slash.
RPM has also released front and rear shock towers which will also fit on the Traxxas Slash, Electric Stampede, Electric Rustler and Bandit. RPM has maintained all stock geometry on the shock towers, and have beefed them up in all the right places to eliminate annoying rear shock tower breakage. At the base of the shock tower, RPM RC Products has improved the screws' head clearance of the bulkhead mounting screws to eliminate the bind normally associated with the stock rear shock tower. All these design elements combine to create the ultimate lightweight, bulletproof shock tower.
Part #: 80832 – Rear Shock Tower – Traxxas Slash, electric Stampede, electric Rustler and Bandit.
MSRP: $8.95
Part #: 80522 – Black Sealed Gear Cover for the Traxxas Slash, electric Stampede, electric Rustler and Bandit
Part #: 80525 – Blue Sealed Gear Cover for the Traxxas Slash, electric Stampede, electric Rustler and Bandit
MSRP: $6.95