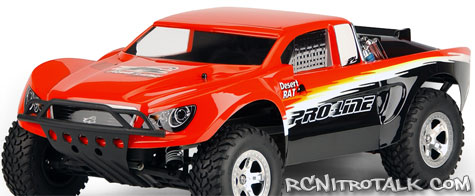 Just a month after Proline Racing released the Hardcore body for the Traxxas Slash, Proline Racing is releasing a second body, the Desert Rat.
The Desert Rat features a bold, much more pronounced fenders and low profile styling. Giving the Desert Rat a mean attack like stance. The Proline Desert Rat even has simulated side mirrors just like the full scale CORR trucks! Exceptional detail throughout including bed shrouding, radiator and extreme shock detail including reservoirs just behind the cab. And not too worry it's made from genuine GE .040 thick lexan, so it's as durable as the punishment you throw at it.
Part #: 3284-00 – Desert Rat
MSRP: $35.00
Come comment on the new Proline Racing Desert Rat body for the Traxxas Slash in our Body Shop forum!