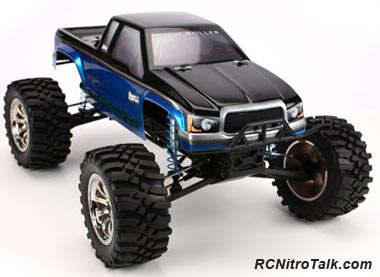 Losi has just released information about their new RTR electric RC Truck called the HIGHroller. The Losi HIGHroller is built on a tube-style chassis giving the truck a realistic look. The High roller features front and rear skid plates, a pre-painted extended-cab long bed custom truck body and sits on top of 320 series chrome wheels with low profile all terrain tires.
A LM-32K motor is powered by a Losi 12RB ESC with reverse which drives an durable planetary gear differential drivetrain. The Losi Highroller also features an easy access battery tray compartment which can accommodate a 6 cell NiMH battery pack.
Losi HIGHroller Specs:
Scale: 1/10
Length: 18.5in
Width: 12.75in
Wheelbase: 12in
Body: Pre-painted
Drive: Sealed 3-gear transmission
Radio: Losi 27MHz AM radio
MSRP: $179.99
Come join the discussion about the Losi High Roller now!