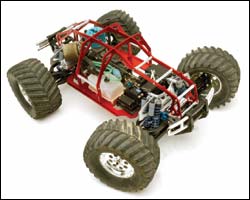 Features
3mm aluminum plates.
Machined aluminum braces.
Includes required hardware.
Testing
The instructions get you rolling pretty quickly and should cause no real trouble for the inexperienced. The two longer braces stretch the entire length of the chassis and protect the engine head from damage. Two other braces complete the look going across the center of the chassis. The kit also includes aluminum chassis plates that replace the stock plastic ones. The kit makes it look like you just changed the entire chassis, a nice trick for your friends.
Everything fit into place very well. We had a "preproduction" sample, which seemed to be a little rough on the finish; some of the edges seemed dented, but that could have been from shipping. Once on the MGT, the kit looked great without a body. I'm almost tempted to say you should run it without the body to show off or achieve the look of a desert runner. To put the body on, you'll have to do some major trimming. The roll cage is designed to protect the topside from damage when landing on its lid, and to do this, the roll cage extends over the engine head. Break out the scissors and tear into that Lexan. I went out and drove the MGT as I always do, and the truck seemed to be the same. It was nice to know that if I wanted to land on my lid, the engine and shock towers were fully protected.
The Verdict
Looking to beat the pants off your MGT? Then this is the roll cage for you. It protects the head from getting damaged in a flip. It looks killer, if you are into the roll-cage look, and it's painless to install. We added the optional shock towers to our kit that replaced the plastic towers with aluminum. You won't be able to use the stock body mounts, so be prepared to get creative if you use them alone. The roll cage has built-in mounts to secure the body to it, if you choose to cover the roll cage
The Score Card
9/10!
The Hits
Full protection.
Quick installation.
Available in a few colors.
Tough gorilla cage.
The Misses
Requires body origami.
Shock towers don't have body mounts.