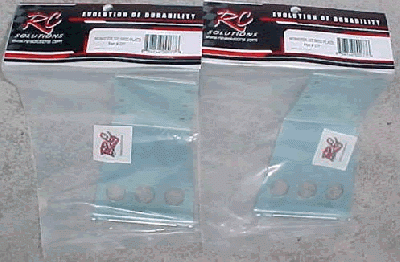 What you get
-Set of 2 Spring Steel Skids/Bumpers for the Associated MGT
-RC Solutions Decals
Features
-Made of Spring Steel
-Countersunk holes for flush mounting of flat head screws

General Impression
This is my second set of RC Solutions spring steel skids. The first was for my T-Maxx. These are similar in design and functionality and are very easy to install.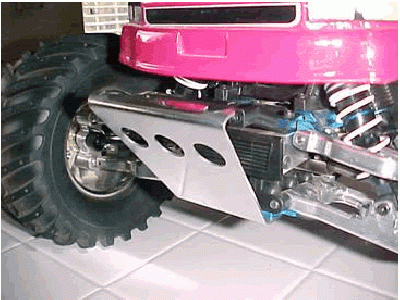 Mounting is the same for the front and rear. Just remove the 4 underside screws and the 2 screws holding the upper mounting arms. Additionally, you will need to remove 2 more screws on the underside since each skid is mounted using 6 screws on the underside. Now just align the skid holes with the mounting holes and bolt them on.
Each skid weighs in at 2.6 ounces. The stock front skid/bumper combo weighs 2.5 ounces and the rear weighs 2.3 ounces. This will give you a weight gain of .4 ounces which is minimal. You can actually cut off the stock upper mounting arms since they are actually no longer needed. While I did not do this yet, I am sure you will get a net weight savings with the installation of the RC Solutions Skids.
Since they are made of Spring Steel, they do just that. When you hit something with them mounted, boing, you get sprung back. They don't break like plastic, aluminum or titanium and under most conditions, always spring back to there original shape.
The Ups
– Solid Spring Steel
– Looks great
– Weighs just about the same as the stockers
– Reasonably prices at $19.95 for 1 or $29.95 for a set (best deal)
The downs
– Some screws will not mount completely flush in the countersunk holes
Where to get it
– Check out RC Solutions website for information on where to get them (They are a site sponsor)
Final Rating 10/10 – Solid upgrade over the stock skids/bumpers for both racers and bashers
robmob