Ofna Force 32 – More torque, more power, more speed
RCTalk is supported by our readers. When you purchase through links on our site, we may earn an affiliate commission. Learn more
Ofna has just released info on their new Force 32 engine. The Force 32 has a claimed horse power of 3+ HP at 38,000rpm! The Ofna Force 32 will also sport a 6 port sleeve with rear exhaust. The .32 cubic inch (5.2cc) Onfa Force 32 is made of the standard ABC construction with an 8mm composite slide carburetor.
So far the only word about the Ofna Force 32 engine is that it should be released sometime in Jan 2006 as a pull start (part#: 52208)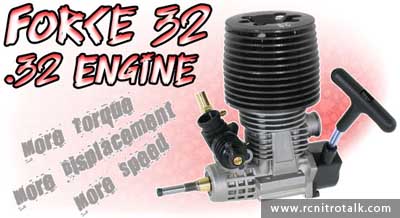 Discuss the new Ofna Force 32 in our R/C Power Plants forum!