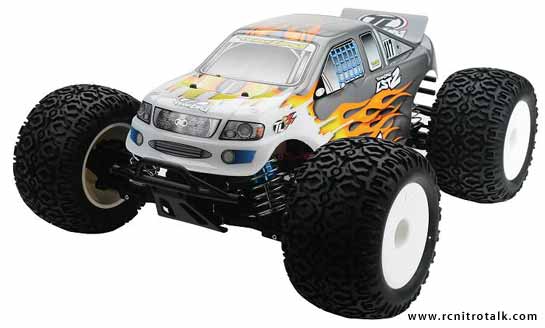 Team Losi LST2 Resources
Team Losi LST 2 Mods:
The Team Losi LST2 is the next generation of big block nitro horsepower and ingenious design, bringing you the most advanced monster truck ever conceived. Taking Team Losi's original "2005 Truck of the Year" Team Losi LST to the next level of performance, the Team Losi LST2 features a POWERFUL new Mach 427 engine, newly designed driveshafts and axles for added strength, 20mm anodized aluminum wheel hexes, bulletproof aluminum differential cases, 420-Series dish wheels and racing tires, beefed up suspension components and much more. Aluminum clutch shoes offer long life and strong, positive engagement to harness the power, directed through a revolutionary transmission that shifts on the fly while climbing rocky inclines or blasting the Team Losi LST2 across the flats at speeds over 40 MPH. And you will stay in precise control the entire time with JR's premium XS3 synthesized computer FM radio system. The Team Losi LST2 is the complete, high-performance, ready-to-run package that monster truck racers have been looking for.
Team Losi LST2 Features
Potent new 7-port Mach 427 engine
Newly-designed oversized driveshafts, bearings and axles for added strength
Revised suspension arms, hubs, carriers and spindles
20mm anodized aluminum wheel hexes
Mega shocks with threaded anodized bodies and adjuster nuts
Team Losi Spin-Start Electric Starting System
Exclusive Multi-speed transmission w/reverse and slipper clutch
Sealed 2-speed spur gears
Steel-geared vicous differentials
Bulletproof aluminum F/R differential cases
420-series dish wheels
Low-profile ATX racing tires
Aluminum clutch shoes
High-capacity fuel tank
Dual-disk brakes
Pro-tune linkage set
1100MAH Ni-MH receiver battery pack and 110V charger
Premium JR XS3 Synthesized radio w/2 steering servos
Dual metal-geared Z590 steering servos
Team Losi LST2 Specifications
Type: 4WD Nitro Monster truck
Scale: Monster Truck
Width: 18.5 in (470mm)
Wheelbase: 14.2 in (361mm)
Weight: 13 lbs. (5897g)
Chassis: Dual-deck aluminum with composite ladder braces
Suspension: 4-wheel independent H-arm
Drive Train: Center Hi/Lo trans, 2-speed w/slipper and 2 differentials
Tire Type: ATX low-profile racing tires
Motor or Engine: Mach 427 (.427cc) with tuned exhaust system
Radio: JR XS3 Synthesized FM system
Servos: Z590 (steering x 2), Z270 for throttle/brake & shift
Batteries: 1100MAH NiMH receiver pack
Charger: 110v, 100MAH overnight charger
Speed: 40+MPH
Wheel Size: 40-series using 20mm drive hex
Kit/RTR: RTR
Shock Type: Oversized threaded coil-over mega shock
Body: LST2 Racer type, prefinished
Ball Bearings: Complete
Fuel Tank Capacity: 220 c.c.
Team Losi LST 2 Pictures