RCTalk is supported by our readers. When you purchase through links on our site, we may earn an affiliate commission. Learn more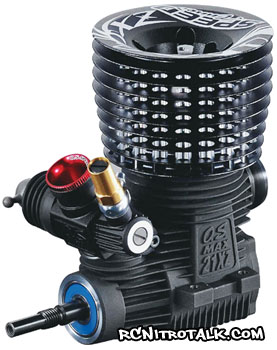 Top drivers like Mark Pavidis and Atsushi Hara can vouch for the victory-taking technology of O.S. Speed engines. Both have stood in the IFMAR Off-Road World Championship winner's circle as a result of its powerful edge. Now another O.S. engine offers you the same advantage with the new O.S. Speed 21XZ-B engine. The O.S. 21XZ-B engine has a completely new design that delivers instant throttle response and impressive torque over the entire rpm range.
O.S. 21XZ-B Features
Fuel efficiency improved by 8% (compared to the 21XZ-B).
Black-anodized cylinder head with reduced height (by 9mm, compared to O.S. Speed 21VZ-B V-Spec.II) plus additional holes for improved cooling and less weight.
Lowered center of gravity for steadier car handling.
Newly designed 21J2(B) three needle, double adjust carburetor with 6.5 aluminum restictor.
Proven 3-port sleeve with special Speed version inner head and porting, for smoother, sharper acceleration.
Strong, DLC-coated crankshaft with silicone-filled intake passage to improve fuel flow.
Ceramic crankcase ball bearing.
P3 glow plug.
O.S. 21XZ-B Specifications
Displacement: 3.49cc (0.213 cu in)
Bore: 16.3 mm (0.641 in)
Stroke: 16.8 mm (0.661 in)
RPM Range: 4,000-40,000
Power Output: 2.6 hp / 34,000 rpm
Weight: 355.0 g (12.52 oz)
Part #: OSMG2051 – 21XZ-B SPEED ABC 21J2(B)
MSRP: $749.99
Part #: OSMG2938 – T-2060SC WN TUNED SET
MSRP: $199.99
Part #: OSMG2939 – T-2060SC WN TUNED PIPE
MSRP: $149.99
Part #: OSMG2702 – M2000SC MANIFOLD
MSRP: $63.99
Part #: OSMG2701 – M2000 MANIFOLD
MSRP: $51.99