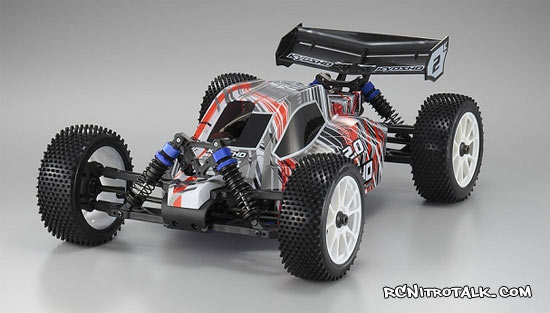 The new Kyosho DBX 2.0 nitro buggy gets beginners off to a flying start as well as providing an ideal step up to the power of 1/8th class machines with the same long wheelbase and tread as well as 1/8th tires and wheels. The Kyosho DBX 2.0 chassis features a 4-wheel independent double-wishbone suspension and fulltime 4WD drive expected of a true racing buggy and it's optimally balanced with the power of the GXR-18SP engine delivering outrageous performance.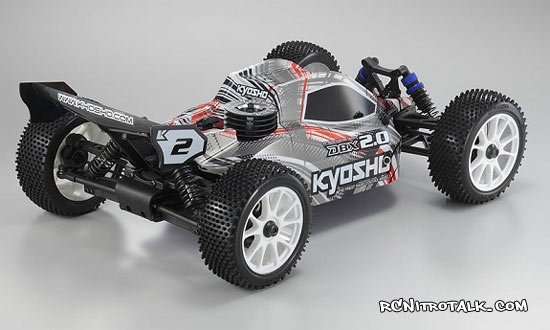 Whether you're timing laps around a 1/8th racing circuit or tearing up the local dirt track, the Kyosho DBX 2.0 puts the adrenaline pumping excitement of real off-road racing performance at your fingertips. As the Kyosho DBX 2.0 is packaged as a fully assembled Readyset, even beginners can be off and racing in no time at all.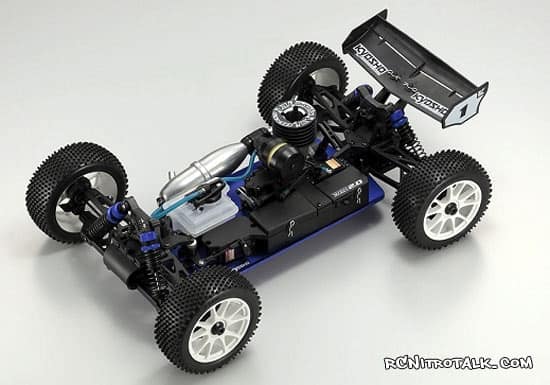 Kyosho DBX 2.0 features
Big Bore Shocks – Equipped with largecapacity oil shocks as standard. Soaks up bumps with ease and providessmooth landings. Features threaded shock bodies for chassis heightsetting.
2.4GHz Syncro System – The all new Kyosho2.4GHz transmitter, ultimate safety and function included with all DBX2.0 Ready Sets.
Duel Brake Disks – Brake disks areequipped in the front and back of the center differentials providingreliable braking power. Enables separate adjustment and setting of frontand rear brakes.
Finished Body – Pre-cut body featuressharp 3-color printed color scheme. Cab forward design of thebody delivers optimal down force and airborne stability as well asincreasing maximum speed.
Multipoint Adjustments – Design featuresmulti-point setting adjustments such as chassis height, camber, tread,front and rear toe-in etc.
Large 1/8 Wheels &Tires – The DBX 2.0 comes equipped with 1/8th size wheels and tire combo,resulting in a larger footprint and improved handling. Giving you the1/8th scale feel and look in a 1/10th package. All current standard1/8th wheels and tires will fit the DBX 2.0 standard 17mm hex.  
Shaft Drive – The drive shafts run through the centerfor chassis to give you better lower CG and optimum weight balance.
Fully Digital Servos – Equipped with digitalservos for great response.
Dirt Proof Radio Box – Dirt proof radio boxprotects the receiver and battery. Can be attached or removed from thechassis with just four screws.
Wide Stance – Long span suspensionarms create the wide tread on the double wishbone 4-wheel independent suspension system for superior stability.
Fully Interchangeable – Front / rear and left /right suspension arms, front / rear knuckles and front / rear shockstays are all interchangeable. Newly designed suspension withmaintenance-friendly ball connect system.
Power House GXR18SP – GXR18 engine mounted on1/10 chassis that is normally seen with 12-15 size engines. Equippedwith recoil starter, large cylinder head and tuned type muffler.
Massive 105cc Fuel Tank – Includes newly designed105cc fuel tank to supply the large 18-size engine with plenty ofruntime. Delivers stable fuel supply even under severe drivingconditions. Can deliver run times of more than 10 minutes.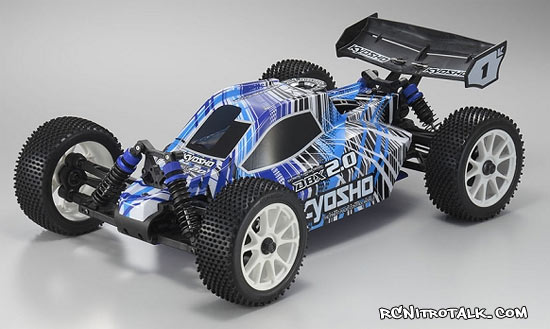 Kyosho DBX 2.0 specs
Scale: 1/10
Length: 475mm (18.7in)
Height: 154mm  (6.0in)
Wheelbase: 320mm (12.5in)
Gear Ratio: 12.88:1
Weight: 2,365g (5.5lb)
Engine: GXR-18SP (Nitro)
Part #: 31098T1B – Kyosho DBX 2.0 Type1 (Blue) with Syncro KT200 (2.4GHz Radio)
Part #: 31098T2B – Kyosho DBX 2.0 Type2 (Red) with Syncro KT200 (2.4GHz Radio)
MSRP: $449.99