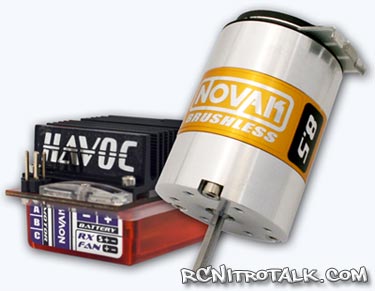 If you're looking to upgrade from an old brushed type motor to a brushless system or looking for a speed upgrade for your 1/10th scale off-road and on-road RC vehicles then you should take a look at Team Novaks new brushless system the Novak Havoc Sport!
The Novak Havoc Sport offers the same features found on all other Novak motor and speed controls, the 540-sized motor is equipped with a sintered rotor for precise throttle response and resistance to high temperatures, and the Novak Havoc Sport brushless motor is sensored for low-speed driveability and consistent brakes.
The Havoc Sport Brushless/Brush ESC contains one of the strongest BECs for sport applications and includes nine adjustable parameters to fine-tune brake and throttle response. Also, its small footprint and low cost make it a perfect complement to Traxxas' Slash 2WD Truck, HPI's E-Firestorm, Kyosho's LAZER ZX-5 SP and other 1/10-scale off-road and on-road vehicles. The Novak Havoc Sport Sensored Brushless System, installed in the Traxxas Slash has taken it over 40 MPH!
Novak Havoc Sport Brushless features
Fully programmable, user-friendly interface with nine adjustable parameters: Minimum Brake (10 settings from 0-27%), Drag Brake (10 settings from 0-27%), Dead Band (5 settings from 2-6%), Minimum Drive (5 settings from 1-5%), Throttle Curve (Linear and Expo), Brake Frequency (7 settings from 1-8 kHz), Reverse, Motor Rotation and Li-Po Cut-Off
Novak's One-Touch Set-Up for quick, easy transmitter setup
Novak's Smart Braking II enables users to "shift" from forward to reverse
Water-resistant case with gasket seal
Oversized front bearing for increased load handling and bearing life
Auto Detect Brushed Motor Mode
Meets RoHS compliance and includes 120-Day Warranty
Designed and assembled by Novak in Irvine, California, using globally-sourced components
Part #: 3038 – Novak Havoc sport brushless system
MSRP: $139.99
Tell us your thoughts about the new Noval Havoc sport brushless system in our General RC Electric Talk forum.