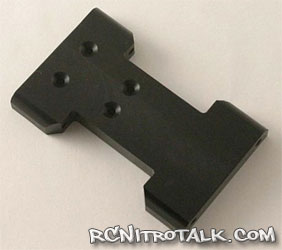 East End Machining has created a delrin skid plate for the Axial AX10 Scorpion that fixes a common problem with the AX-10 known as "axle steer". Axle steer is causes the axle to articulate at an angle instead of straight up and down. The articulation at these angles can cause the suspension to bind and fail prematurely.
The EEM dual triangulation skid plate provides users the same competitive edge that other rc rock crawling guys have with much more expensive chassis's. The dual triangulation is accomplished by moving the lower links toward the center of the chassis. And since the plate is made of delrin, the skid plate will slide easily over rocks and other obstacles. All high quality hardware needed to install the skid plate is included.
Part #: AX80007-4RT
MSRP: $24.99
Come discuss the new EEM delrin skid plate in our RC Rock Crawlers forum!