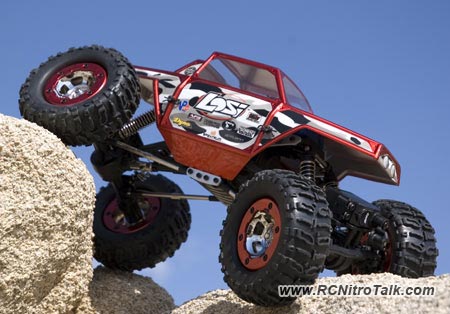 Losi has just released news about their new 1/18th Mini-Rock Crawler. The Losi Mini-Rock Crawler ready-to-run 1/18th scale crawler incorporates the key design principles of full-scale rock crawlers into a 1/18th scale package. The truly innovative Losi Mini-Rock Crawler features a multi-link suspension, heavy-duty metal ring and pinion gears, a 3-gear center transmission with a spool and slipper, a high-torque motor and an ESC that has been re-tuned specifically for rock crawling
Losi's Mini-Rock Crawler uses design features from real-world rock crawling competitors. A multi-link suspension and solid 4mm axles provide the ultimate combination of lightweight agility and strength. The full-time 4WD drivetrain powers all 4 wheels through a center-mounted 3-gear transmission with a spool and slipper, providing grip and torque at each and every wheel. The positioning of the transmission provides the Team Losi Mini Rock Crawler with outstanding balance for tackling the toughest climbs and maneuvers. Heavy-duty metal ring and pinion gears, solid axles and axle shafts combined with a full set of ball bearings provide the Mini-Rock Crawler with durability for extreme, precision climbs!
Losi Mini-Rock Crawler Features
Metal TVP chassis design
Multi-link crawler suspension design
Heavy duty metal ring and pinion gears, axles and axle shafts
Gusseted drive cases for increased strength and durability
A true locked-out rear end design, no steering spindles
Heavy duty universals with slide-type outdrives and metal yolks
Alloy lower suspension links with captured ends
Extra long oil filled shocks, front and rear
Solid axles with optimized drive shaft angles allow for a freely-rotating driveline throughout the entire suspension travel
Telescoping slider driveshafts
3-Gear center transmission with spool and slipper
4WD with locked differentials
Ball bearings throughout
1.9″ Bead lock style wheels with 12mm wheel hexes
New electronic FWD/RWD rock crawling specific ESC with extra drag brake
High-torque rock crawler specific motor
Mini high-torque rock crawling servo
Tuber style body: Scale looks of the full-scale rock crawling machines; 3 colors to choose from: Red, Blue and Black
Features Mini-Rock Claw Tires for superior traction (modeled after the National Champion winning 1/10-scale Rock Claw 2.2 Tires)
Losi LSR3000 radio system featuring Spektrum 2.4GHz DSM technology for crystal-free operation
7.2V 1100mAh NiMH Battery and Charger
4 AA batteries included for transmitter
Part #: LOSB0222
MSRP: $319.99
Come discuss the Team Losi Mini-Rock Crawler in our Micro 1/18th forum!