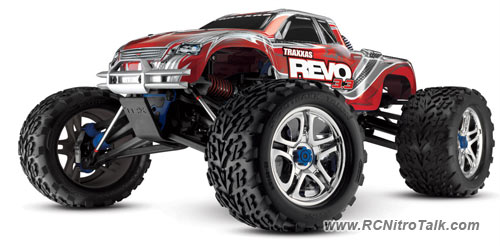 Traxxas has released yet another Traxxas Revo 3.3. The newest Traxxas Revo keeps a sharp focus on core performance elements as the lightest, quickest, and most versatile Revo 3.3 yet. The new Revo 3.3 chassis layout borrows from the exclusive Revo Platinum Edition with race-inspired features such as a compact receiver box that includes an integrated personal transponder mount for race day. The legendary high revving power of the national championship winning TRX 3.3 Racing Engine drives a low mass 2-speed transmission for amazing acceleration and 45+mph top speeds. Time and time again, Traxxas Revo has proven the benefits of its visionary design, and the newest Revo continues the legacy.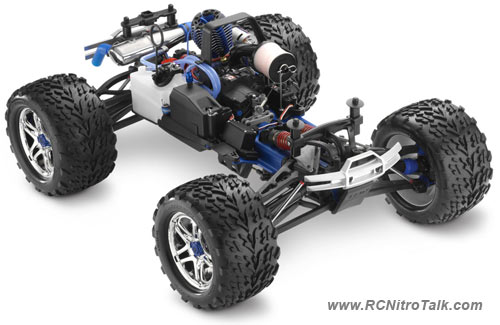 The new Race Inspired Traxxas Revo 3.3 featrues 17mm aluminum splined wheel hubs and nuts with hard anodized teflon coated GTR shocks with titanium shock shafts to help keep the wheels planted on the ground while a single digital high torque ball bearing servo steers the new Revo. The new race inspired Traxxas Revo 3.3 also has oversized wheel bearings and reinforced axle carriers. To help save weight and provide more power a forward only transmission has been installed. The 150cc fuel tank also allows for longer run times between refuels.
Traxxas Revo 3.3 Summary
TRX 3.3 Racing Engine with Resonator tuned pipe
45+mph top speed
3.8″ Talon tires mounted on Split-Spoke wheels
Splined 17mm aluminum wheel hubs
Super-duty sealed driveshafts
Teflon-coated hard-anodized GTR shocks
Installed progressive 2 rockers
Integrated roll hoop and carry handle
150cc fuel tank
EZ-Start electric starting system
Accepts optional accessories:
Center Differential (part #5414)
Rear brake kit (part #5417)
Sway bar kit (part #5498)
Part #: 5308 – Traxxas Revo 3.3 4WD monster truck, RTR with 3-channel radio system and TRX 3.3 Racing Engine.
MSRP: $850.00
Discuss the new race inspired Traxxas Revo 3.3 in our Traxxas Revo forum.