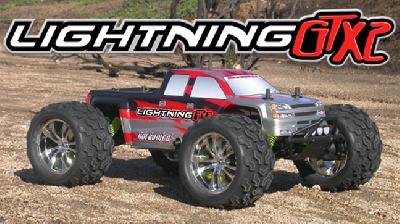 Lightning GTX2 (RTR) Features:
• Dual .26 POWER FACTORY ENGINE W/JUMP START
• LONG WHEELBASE MAIN CHASSIS(7075-T6)
• SPIRAL BEVEL GEARS
• 50T CENTER GEAR
• 4mm F/R SHOCK TOWERS(7075-T6)
• COMPOSITE LONG SUSPENSION ARMS
• 8 LONG SHOCKS
• FULL SEALED BEARING
• HARDENED STEEL DIFFERENTIAL GEARS
• ALUMINUM FRONT SUSPENSION HOLDER
• RACING WHEELS & TIRES
• DUAL BRAKE SYSTEM
• LIGHTNING GTX2 PRE-PRINTED BODY
• RADIO & RADIO GEAR
• DUAL HIGH TORQUE STEERING SERVOS
• FUEL BOTTLE
• GLOW STARTER
• 12 "AA" BATTERIES
• PLUG WRENCH
Check out the dual engine layout! Two of everything is required for ease of tuning and starting.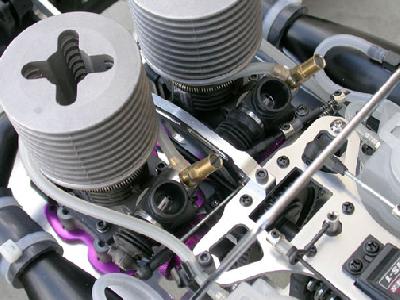 Dual carbs provide the aspiration to the Dual .26 racing engines.
To see more check out the Hot Bodies Web Site.
Thanks Darth Racer for the information