K-Factory HiFL Offroad Dual Intake Air Filter
RCTalk is supported by our readers. When you purchase through links on our site, we may earn an affiliate commission. Learn more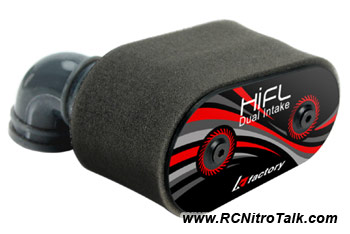 K-Factory has just released their new High Flow dual intake air filter. Their new dual intake air filter allows more are to smoothly flow unrestricted into the carburetor. K-Factory claims the new dual intake design dramatically reduces air turbulence within the filter and allows air to flow smoothly and unrestricted. Resulting in an engine that breathes better and in turn operates at maximum power on demand without stalling.
Dual Stage Foam
Dirt is the enemy of all engines big and small. In an unprotected, a high powered RC engine cranking at over 35,000 rpm, dust particles can wear down your engine's piston and sleeve in seconds! Just like that your engine's compression is gone and so is the power.
The K6414 dual stage foam filter traps dust and debris that could ruin your power plant, yet allows the free flow of air to keep your engine running smooth and strong. The lightweight design eliminates drag and helps reduce overall vehicle weight. The low maintenance and easy installation keeps you out of the pits and out on the track.
Part #: K6414
Come discuss the new K Factory High Flow Offroad Dual Intake Air Filter in our General RC Nitro Talk forum.