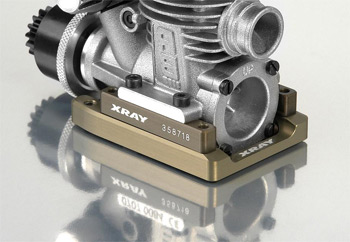 XRAY has released a one piece engine mount for XRAY XB808. The XRAY engine mount is CNC-machined from premium Swiss 7075 T6 aluminum then hardcoated for extra durability and long life. Ultra-strong construction provides very long life and durability in even the most extreme racing conditions.
The XRAY 1-peice engine mount mounting system consists of two components: an adjustable base (which is affixed to the chassis), and a pair of upper mounts (which stay attached to the engine crankcase) that key to the base. This enables the engine to be mounted and dismounted each time without needing to readjust gear mesh.
Additional upper mounts are available for either Nova or Picco based engines, making engine swaps easier then ever so now you can have few engines prepared in your pit box with the engine mounts attached and ready at a moments notice. Just simply remove one engine from the base mount and replace it with another!
XRAY XB808 aluminum 1 piece engine mount features:
Authentic XRAY optional 1-piece engine mount for XB808
CNC-machined from premium Swiss 7075 T6 aluminum
High-quality hardcoating for extra durability and long life
Ultra-strong construction for long life and durability
Unique keyed-mount design
Solid engine mounting, easy adjustment
Easy engine swaps without gear mesh re-adjustment.
Smart engine mount design allows easy access to engine rear cover without disassembly
Optional upper mounts for Nova- or Picco-based engines
Precision machined with highest tolerances
Laser-engraved with the XRAY registered logo for authenticity