RCTalk is supported by our readers. When you purchase through links on our site, we may earn an affiliate commission. Learn more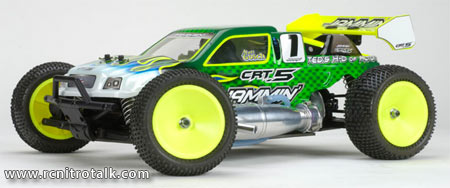 Jammin have released details of their upcoming mini truggy, the Jammin CRT.5. Developed from the same high performance technology and super tough materials as the Jammin X1-CRT. With a big brother like the "Truck of the Year" award winning Jammin X1-CRT, the new Jammin Mini CRT.5 Truggy is the leader in mini gas off-road racing. Huge performance with a big reputation all in a MINI package!
Jammin Products is pushing hard to get the Jammin Mini CRT.5 on the shelves in early February. Here are some more photos in the meantime. Shown is the Pro Version of the Jammin Mini CRT.5 truggy painted up with Team Driver Matt Gosch's colors.
The Pro Version will be available first (RTR following shortly) and the estimated street price will be approximately $325.00. The Pro version of the Jammin Mini CRT.5 will be sold 80% assembled without engine, radio, or paint.
Discuss the new Jammin Mini CRT.5 truggy in the Micro 1/18th forum.