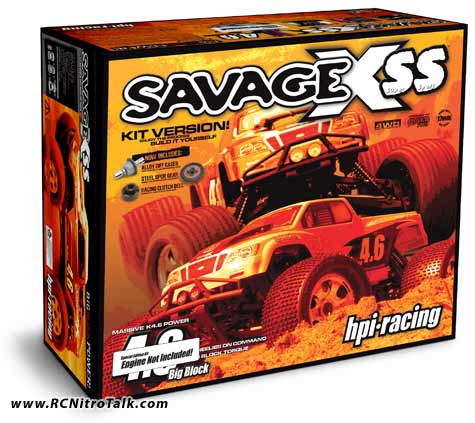 When it comes to R/C Monster Trucks, HPI Racing has become the go-to-guy for build it yourself rc monter truck kits and now HPI has made their collection just a little bit bigger. The HPI Savage X SS kit without an engine! HPI customers have requested a HPI Savage X SS kit without and engine and now HPI has delivered. All priced that won't break your budget. So if you already have a high horsepower nitro engine, this kit is the perfect opportunity to bolt it into the latest HPI Savage X SS kit decked out with heavy duty hop-ups and upgrades.
The HPI Savage X SS has cast alloy differential cups with steel pin guides are standard on the front and rear of the truck, delivering unmatched strength and durability while extending the standard maintenance interval of the diffs. All of the internal diff gears are shimmed for precise mesh, and HPI Racing even shimmed the outdrive bearings and input shafts for extra precision. Heavy duty diff shafts, cup joints, drive shafts and dogbones are used for maximum strength and durability. And, a hardened steel spur gear with a matching ventilated "racing" clutchbell have been added for the ultimate in drivetrain strength, right out of the box. A high performance polished tuned pipe and high flow tube header to help maximize power output of our HPI Savage X SS!
The HPI Savage X SS without engine kit also does not include electronics, so owners can customize their HPI Savage exactly how they want it. A clear polycarbonate trimmed body with pre-cut decals and window mask is included so you can lay down your own slammin custom paint job.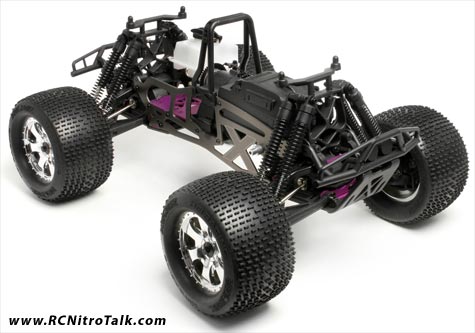 Part Number: 883 – HPI Savage X SS Kit w/o engine.
MSRP: $579.00
Discuss the new HPI Savage X SS kit without engine in our HPI Savage forum!