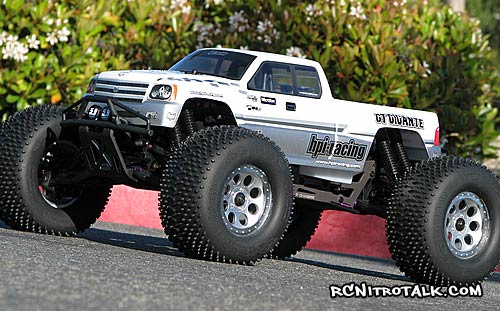 Looking for a new body to pimp out your HPI Savage XL? Then the new HPI Gigante body is designed just for you! Custom designed to fix the Savage XL truck perfectly, with provisions for the shock towers, engine and exhaust. Add your own paint job and you're ready to conquer the track!
The HPI Gigante body features a longer main section and even wider fenders. It will fit any standard Savage or Maxx-size truck, but will require alternate body post hole positions. Molded from thick 0.040″ clear polycarbonate. The convenient pre-cut vinyl decal sheet includes: photorealistic headlights, grille, tail lights, official logos, window frames, door handles and more – all of which are die-cut to make applying the decals quick and easy.
Overspray film and pre-cut vinyl window masks are included with each body. A decal instruction sheet is included for decal placement, and the body has dimple marks for body post drill locations.
HPI Gigante body
Photorealistic die-cut premium vinyl decals include window frames, headlight, grille, tail lights and more, plus official logos!
Overspray film and pre-cut vinyl window masks make painting fast and simple
A decal instruction sheet is included for decal placement
The body has dimple marks for Savage XL body post drill locations
Molded from 0.040″ clear polycarbonate plastic for durability and long life
Part #: 7124 – HPI Gigante, Savage XL body
MSRP: $38.00