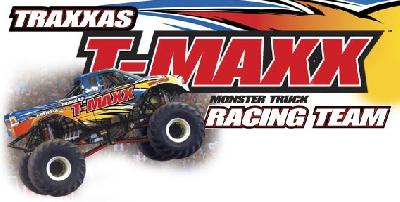 Traxxas is excited to announce our entry into the real world of mega-horsepower, car-crushing monster trucks with a full-size Traxxas T-Maxx. To be worthy of the T-Maxx performance legend, the giant T-Maxx uses only the latest state-of-the-art chassis and suspension hardware, combined with an ear-splitting 1500+ horsepower engine. The Traxxas T-Maxx will be driven by 15-year veteran pro driver John Seasock of Sudden Impact fame. The Traxxas T-Maxx isn't a poser or an amusement park ride. It's the real deal that will compete in pro-level USHRA Monster Jam competition against the Gravedigger, Maximum Destruction, and other top contenders.
Here's the opportunity for Traxxas T-Maxx fans to unite and cheer the full-size version of the world's premier four-wheel drive R/C Monster Truck to victory. The USHRA's thunderous, car-crunching monster trucks race at arenas and stadiums around the world, and many events are televised on the Speed Channel.
See the T-Maxx debut at its first USHRA Monster Jam event in Houston, Texas, on Jan 8th 2005! The following weekend, T-Maxx travels to New Orleans for a massive show at the LA Superdome. T-Maxx will go on to compete in more than 40 events in 2005.
Traxxas' full-size T-Maxx is powered by a 540-cubic inch blown, alcohol-injected engine that cranks out 1500+ horsepower. The 10,000-pound T-Maxx is set on a Patrick Enterprises custom chassis. The massive T-Maxx is 12 feet tall and 12 feet wide and is equipped with 30 inches of suspension travel and 30-inch nitrogen shocks. You sure won't find these tires at the hobby shop. They're a giant 66 inches tall by 43 inches wide!
Stay tuned to Traxxas.com for more details!