East End Machining Berg MOA Chassis
RCTalk is supported by our readers. When you purchase through links on our site, we may earn an affiliate commission. Learn more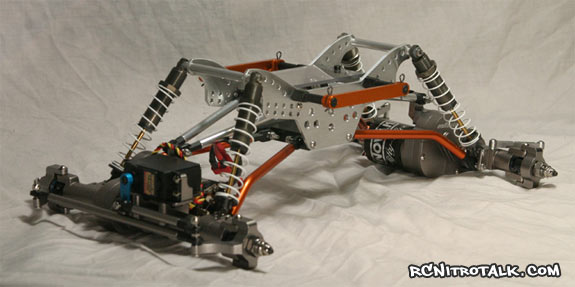 Well it's finally here. EEM's first MOA chassis. It has been designed for Berg Axles but can be run with any other MOA style axles on the market.
The design was created and honed by East End Machining Team Driver Lloyd Town. Better known to us all on the boards as Slow-N-Green.
Lloyd has done an incredible job on this design. It is a 2 1/4 in wide aluminum TVP chassis design. It has a modified EEM Double Reverse Triangulation Skid Plate, 4 cross braces, & a Lexan DIG Tray. The chassis is pre-drilled to accept the EEM AX10 Velcro body mount system (SC-008)as well.
All the parts used in this kit are machined from high quality materials. Aluminum chassis plates are machined from 6061-T6 Aluminum plate, Chassis stays (both square and round) are machined from solid 6061-T6 Aluminum bar. Dig tray is made from genuine "Lexan" shatter resistant plastic. Lastly the SNG's Double Reverse Triangulation Skid Plate is machined from solid Delrin plate.
East End Machining Berg Chassis Includes
(2) Aluminum Chassis Plates
(1) Delrin Skid Plate
(2) Round aluminum Shock Stays
(2) Square Aluminum Chassis Stays
(1) Lexan DIG Tray
Manufacturer: East End Machining
Part #: SNGA-001
Price: $74.99
Discuss the new EEM Berg / MOA rock crawler chassis in the East End Machining forum!