E-Maxx Two-Speed Conversion Kit
RCTalk is supported by our readers. When you purchase through links on our site, we may earn an affiliate commission. Learn more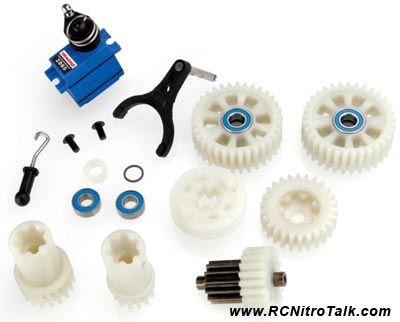 Traxxas is releasing a two speed conversion kit, available late February, for their popular Traxxas E-Maxx (#3905). The new two speed e-maxx conversion kit adds high speed passing with the already powerful stump-pulling torque. The kit also includes a Traxxas waterproof sub-micro servo which can be activated with a push of a button from a three channel transmitter.
Also included in the Traxxas E-Maxx two speed conversion kit is a wide and close ratio first gear sets. The wide ratio first gear set delivers an amazing 50:1 final drive ratio for climbing serious terrain, while the close ratio first gear set is ideal for running through grass, mud bogging, and hill climbing.
E-Maxx Two-Speed Conversion Kit Features:
Shift-on-the-fly from the transmitter (sold separately)
Select low gear for monster torque or shift into high gear for 30+MPH top speed
Brushless Readyâ"¢ E-Maxx transmission can handle big block brushless power in any gear
Close ratio first gear set adds high-torque grunt and wheelies on demand
For the ultimate rock crawling granny-gear, the wide ratio first get set has a final drive ratio over 50:1 with the stock pinion and spur gears
Includes a waterproof (#2065) sub-micro shift servo
Part #: 3998 – Two Speed Conversion Kit
MSRP: $55.00
Discuss the new Traxxas E-Maxx Two speed conversion kit in our Traxxas T-Maxx forum.