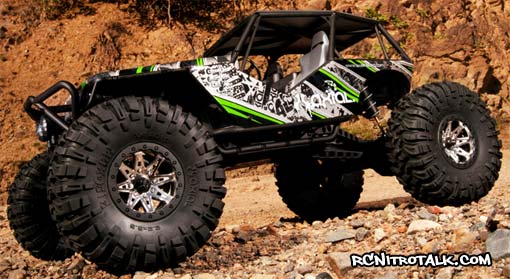 Axial's new 1/10th scale 4WD rock racer, the Axial Wraith is another first for Axial with the first and most realistic ready-to-run full tube-frame that has been manufactured with high strength composite materials. The Axial Wraith is not just another, go slow rock crawler, but instead is also built to go fast!
The Axial Wraith changes the game with its impressive 1:1 scale looks, high-speed monster truck "bashability" and technical "crawl" capabilities.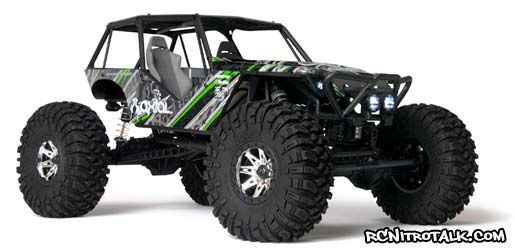 The Axial Wraith's realistic looks, drivability and RTR ease makes the Wraith the perfect blank canvas for the enthusiast looking for a vehicle to build upon. The Wraith can go in so many directions; desert sand, mountain trail runner, rock racer, mud bogger and any form of backyard bashing that can be dreamed up!
Within the 1:1 crawler and off-road race segments, overall tire diameters have been on the rise, literally and directly influencing the R/C crawl segment, thus this Axial Ripsaw reflects this attraction of flirting with rocks at speed with a compelling design that will give your rig the aggressive competition look and performance.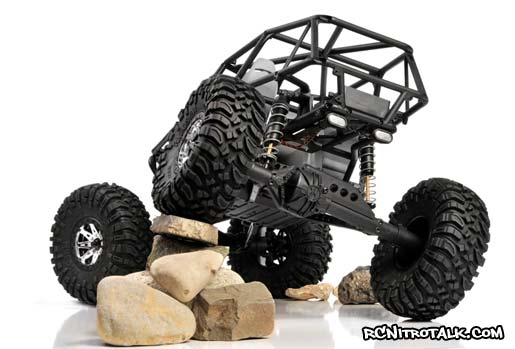 R/C crawlers will clearly benefit with larger ground clearance where it counts as the Ripsaw measures 5.5″ (140mm) in diameter. This gives the lowest point on the 4WD axle housing more clearance thus giving you many more tactical driving options in those sticky predicaments! Speaking of "sticky," Axial offers the 2.2 Ripsaw in a R35 sticky rubber compound noted with a "white dot" on the outside carcass of the tire.
Axial Wraith Features
AR60 OCP-Axle (Off Center Pumpkin Design)
4-Link Suspension
Optimized Steering Geometry
Full Tube Frame Composite Chassis
Assembled with all hex hardware.
Corbeau© LG1 Licensed Race Seats
Castle Creations AE-2 ESC with Drag Brake
Lighting 6 LED's with Extra Light Buckets
Protective Transmission Spur Gear Cover
Slipper Clutch
Axial AX-2 2.4GHz Radio System
Waterproof Radio Box
Easy Diff Access
Battery Tray for Standard Stick Pack and LiPo Packs
High Performance Shocks
2.2 Rebel Wheels and Ripsaw Tires
20T Motor
Axial AX30793 Dig Upgrade Set (not included)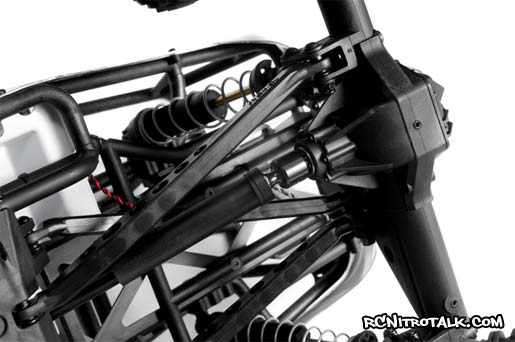 Part #: AX90018 – Axial Wraith RTR Rock Racer
MSRP: $365.00
Discuss the new Axial Wraith in our RC Rock Crawlers forum!