Futaba 8FG Super 14-channel radio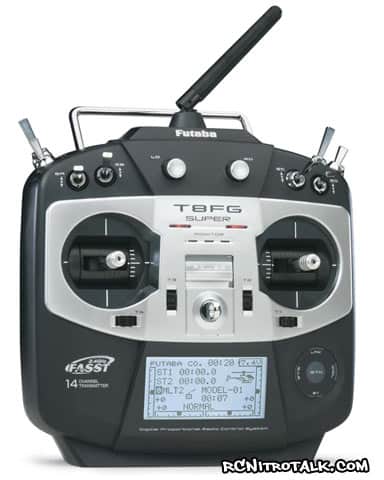 The original Futaba 8FG was already one of the best 2.4GHz radio value available. Now, for the same cost the Futaba 8FG Super offers six additional channels – plus new software with menus tailored to Futaba's super-fast CGY750 gyro!
Recommended by Bobby Watts, Matt Botos and Kyle Stacy, the Futaba 8FG Super is the first radio that really supports flybarless helicopters. And it's perfect for all other applications.
Futaba 8FG Super features
Expanded with 14 total transmitter channels – 12 proportional and two switched.
Included R6208SB receiver's PWM (Pulse Width Modulation) channels support up to 8 standard analog or digital servos — and it handles up to 18 channels when used with an S.Bus system.
Gyro menu supports 3-axis gyros and is perfectly tailored to the CGY750.
User menu allows pilots to customize and display frequently used functions.
VPP (Variable Pitch Propeller) compatibility can be set to three conditions for throttle and pitch curve.
Swash trim can be adjusted from the swash screen.
SensorTouch programming maximizes navigation ease.
Numerous factory-defined mixes help you program like a pro.
Low latency and cutting-edge 2048 resolution combine for fast, accurate Real-Time Response.
Accepts 32MB to 2GB SD memory cards* — add as much memory as you want. (*SD memory card not included)
Part #:
FUTK8010 – 8FGAS Super
FUTK8011 – 8FGHS Super