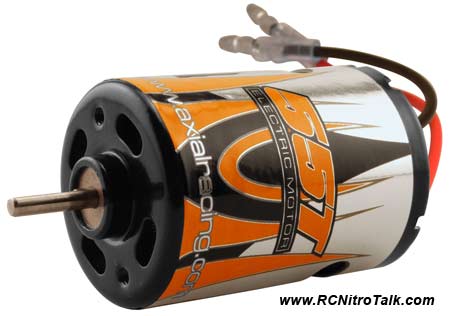 Axial has released a 55-turn electric motor made exclusively for RC Rock crawling trucks such as their Axial AX-10 Scorpion. The Axial 55T motor is a simple upgrade for Scorpion owners as the 55-turn motor comes with bullet connectors, simply remove the old motor, add the new Axial 55T motor and you're ready for more low-end and slower wheel speed!
Axial 55 Turn Motor Specs
Number of Turns: 55
Input Voltage: 4+ cells (12VDC max)
Motor Size: 2″x1.4″ (52x36mm)
Shaft Diameter: 0.125″ (3.2 mm)
Shaft Length: 0.5″ (12.5mm)
Weight: 5.8oz. (164g)
Mounting Pattern: 25mm
Part #: AX24007
MSRP: $18.00
Come talk about the new Axial 55T R/C rock crawling motor in our RC Rock Crawlers forum.