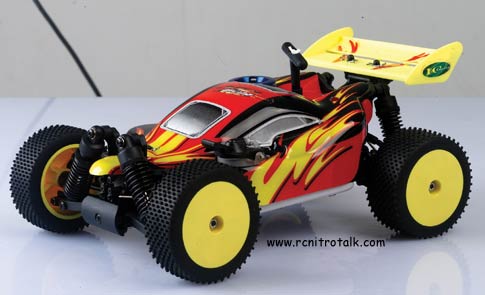 IRC RACING has released two new 1/16 NITRO buggies – the Vulcan and Vulcan SE nitro buggies both are perfect for the nitro novice and the serious nitro racer. Both versions have a .05 engine and are Ready to Race out of the box. The Vulcan is simple enough for the novice and back yard basher but yet sophisticated and flexible for the most demanding R/C enthusiast. Both Vulcans are Racer friendly and feature a highly tunable suspension for a variety of terrains and weather conditions.
Such tunable features include adjustable oil filled shocks, multiple shock mounting locations, adjustable steering Ackerman for steering sensitivity, Front & Rear adjustable Camber, Front & Rear Sway Bars, Adjustable rear Camber links and adjustable suspension travel. The IRC RACING Vulcan SE is packed with red aluminum hop-ups making it absolutely beautiful to the eyes while improving strength and stability. The SE also comes standard with a tuned competition aluminum pipe and header for peak performance.
Optional Parts:
An Optional 2 SPEED is now available!
Optional 1.0cc Radeical R/C Italian competition engine due in about May 30, 2006!
Part numbers:
IRC-16500 – Vulcan
IRC-16600 – Vulcan SE
Join the discussion about the new Vulcan nitro buggies in our Micro 1/18th Talk forum, or visit IRC Racing's website for more info and a video of the buggies!