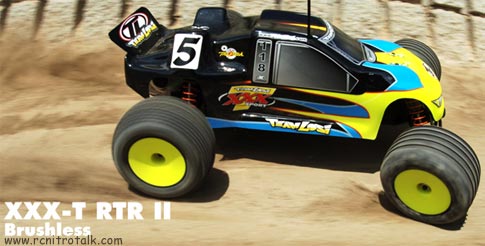 Team Losi now raises the bar yet another level with the XXX-T Brushless RTR, the first electric RTR equipped with a state-of-the-art brushless motor system. There is little doubt that brushless power is the future. With greater power, longer run time, better reliability, and much less maintenance, brushless offers more of everything the enthusiast wants. Until now, the only way to achieve this level of performance and reliability was considered costly. With Team Losi and Novak working together to offer this remarkable package the enthusiast can enjoy all of the benefits at only a fraction of the cost.

The custom made Novak system includes the innovative sensor-based SS4300 brushless motor, which is ROAR approved. There is also a pre-programmed user friendly Super Sport based ESC with One-Touch Set-Up and Thermal Overload Protection. The ESC features two user-selectable profiles, one with reverse and one without for racing. Both options offer built-in drag and push brakes, which until now have not been available. The XXX-T Brushless RTR brings together the unique combination of a race-proven Team Losi chassis design, premium JR XR2i radio, and industry leading Novak brushless motor system. Best of all it all comes out of the box ready-to-run with a killer new trim scheme. Like all Team Losi RTR's the XXX-T Brushless uses all genuine Team Losi replacement and performance parts.
Features:
Proven XXX-T chassis
Novak SS4300 Sensored Brushless Motor and ESC (ROAR legal)
Factory-finished body
JR XR2i computer radio system with digital trims and 2-model memory
High-Torque Z-590M steering servo
Factory assembled and ready-to-run
Exclusive XXX-T suspension package with hard-anodized oil-filled shocks
Exclusive rigid molded chassis with dropped center
Molded suspension components feature interlocking construction
Universal driveshafts deliver crisp acceleration and improved handling
Adjustable slipper clutch for improved traction and acceleration
Racing transmission with heavy-duty adjustable ball differential
Precision ball bearings throughout
Novak SS4300 sensored brushless motor
Novak Super Sport 10.5 brushless speed control with reverse
Rugged racing tires pre-glued on one-piece yellow wheels
Part #: LOSA0096
Join our discussion about the new Team Losi XXX-T brushless truck in our Stadium Truck Talk forum, or you can view more images and info about the brushless XXX-T over at Team Losi website.