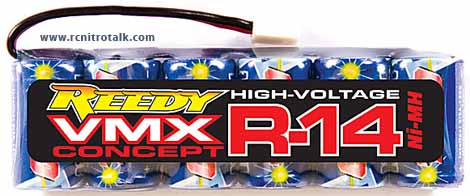 Higher voltage means MORE POWER—and that's just what you get with Reedy's new VMX Concept R-14 battery pack. The VMX Concept R-14 features much higher voltage than stock battery packs, the 1400 mAh VMX Concept pack is the ticket to making your micro car rip up the road. Comes factory-assembled complete with connector and fits directly into the Team Associated 1:18 series models.
Part number and retail pricing:
#617 Reedy VMX Concept R-14, 6-cell racing pack. For micro cars, $39.99 (standard discount item)
UPC#: 78469500617
Availability:
Third week in April.
Discuss this new battery in our Micro 1/18th Talk forum!