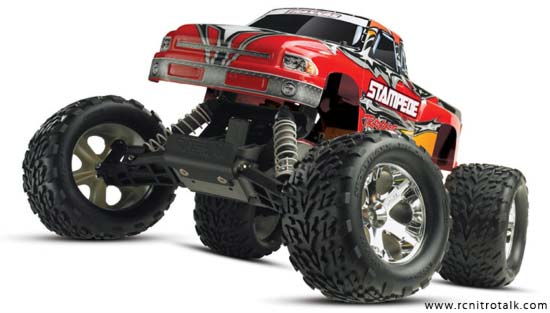 The Traxxas Stampede is back, this time the Stampede has a hot new look, innovative new features, and of course, more power to boost the fun quotient even higher. Combine the increased horsepower with the tall, drive-over-anything 4 inch ground clearance; ultra-tough suspension; and easy operation, the Traxxas Stampede will quickly become your favorite for all kinds of monster truck action.
The Traxxas Stampede benefits from it's family lineage incorporating advanced Revo technology to bolster performance. The Magnum 272 transmission is fully sealed and comes equipped with efficient and precise ball bearings and an advanced Revo-spec Torque-Control slipper clutch. Revo-spec Talon 2.8″ tires provide sure-footed traction no matter how extreme the terrain is. The aggressive Talon tires are pre-glued and mounted on bold 2.8″ All-Star mirror-chrome wheels. Based on the proven Revo Talon tires, the versatile 2.8″ Talons grip the pavement, tear through rocks, and have the ability to kick-up massive roosts. The tires include performance-tuned foam inserts that provide extra stability on any surface.

To harness the power of the 12-turn motor, Traxxas bolted in the new high-performance XL-5 electronic speed control. With ultra-smooth, high-frequency operation and high-power handing capability, the XL-5 makes the Traxxas Stampede as fast as it looks. EZ-Set one-button setup makes it easy to adjust or change profiles. Traxxas' exclusive Training Mode profile cuts total power output in half and leaves the brakes at full strength. It's the first controller of its kind that has a 50% power profile. Training Mode is designed for young or first time drivers that want to learn the ropes before unleashing the full power of the mighty Titan 12T motor. This makes the Stampede perfect for almost any age driver or skill level.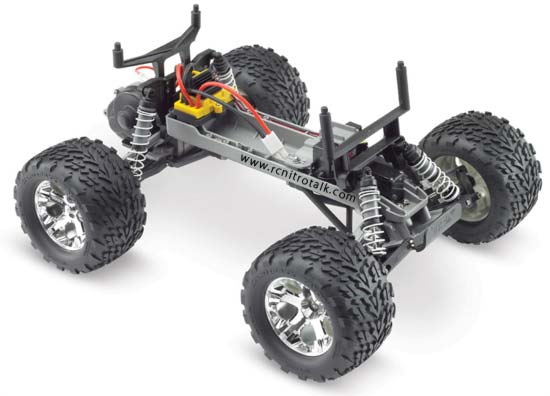 Traxxas Stampede Features:
Titan 12-Turn 550 modified motor
XL-5 electronic speed control
New grey parts
Included optional 23-tooth pinion gear
Revo-Spec Torque-Control slipper clutch
Talon 2.8″ tires with foam inserts pre-glued on mirror-chrome All-Star wheels
New body graphics
Powder coated white springs
Part #: Model 3605 – Fully assembled, Ready-To-Run, with TQ radio, XL-5 ESC and ProGraphix painted body.
Discuss the new Traxxas Stampede in our General Electric Talk forum!