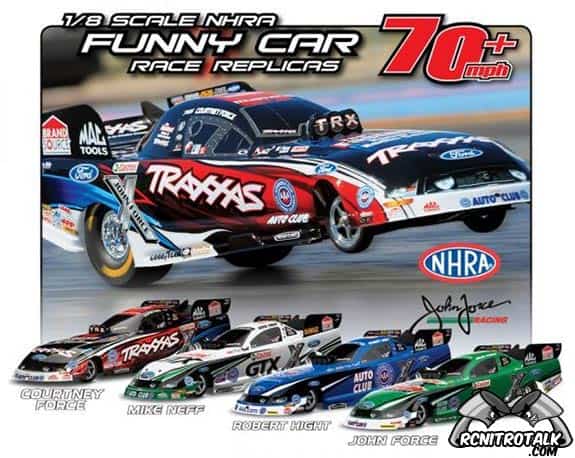 The Traxxas NHRA Funny Car backs up its real-racing looks with genuine Funny Car performance. Install a Traxxas Power Cell 3-cell LiPo pack and the Traxxas Funny Car rips off the line with tire-spinning torque. Stay in the throttle and top speed leaps to 70mph and beyond. The body's fully functional aerodynamic design and high-downforce rear wing let you put power down like the pro's with spectacular launches and exciting speed.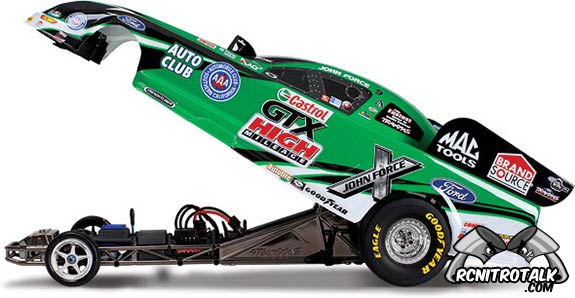 The steel, welded-tube construction of the full-size John Force Racing Funny Cars is replicated by the Traxxas NHRA Funny Car's gleaming black-chrome chassis. Details including the front-mounted "fuel tank" and driver's roll cage give the Funny Car authentic looks to match its realistic performance. The wheelie bar is realistically styled and a functional tuning aid that helps the Funny Car transfer weight to the rear wheels for a perfect launch.
The Traxxas Funny Car's ET-2400 brushless motor is designed specially for maximum performance and reliability with the innovative ET-3s speed control. There are no brushes to wear out, so you can dial in consistent times and blazing speed, pass after pass. High-grade bearings deliver maximum efficiency, and high-strength Neodymium magnets give the Funny Car incredible off-the-line torque. The aluminum motor can is finned to act as a massive heatsink and etched with the Traxxas logo for an extra dose of style.
The Traxxas Funny Car is equipped with the TQi,™ the world's most advanced Ready-To-Race® radio system. The radio system is the sole connection between the driver and machine and the all-new Traxxas TQi has been engineered to be precise, comfortable, powerful, and reliable. The TQi radio system arrives with a full complement of tuning features including steering and throttle sensitivity; steering percentage; braking strength; servo end points, and more. The unique 4-channel transmitter allows you to select Burnout, Staging, and Race Modes. TQi's long-range, high-output, 2.4GHz signal combines with proven Traxxas reliability for rock-solid performance. It's so advanced, it doesn't even need an external antenna.

Part #: 6907 – Traxxas funny car
More Traxxas Funny Car info, or come discuss the new Traxxas Funny car in our Electric RC Talk forum!